Sobel's Focus Remains On Compliance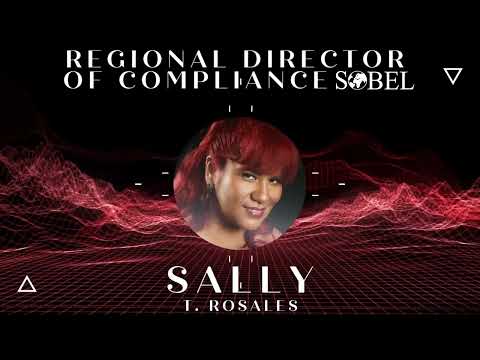 NEW YORK, Nov. 17, 2022 /PRNewswire/ — Competition remains fierce. Success often hinges on staying compliant every step of the way. Imagine if your products are held up before entering the country due to non-compliance. Your company will face angry customers and additional costs due to the delay which will negatively impact your company's bottom line. The current laws have become stringent and there is no margin for error.  In addition to highlighting the current and future compliance environment in logistics, Sobel's Regional Director of Compliance, Sally T. Rosales, has given her thoughts on some of the issues in Compliance today.
Sobel's focus remains compliance. Working with a skilled logistics company keeps you compliant with customs laws.
The COVID-19 pandemic hit logistics companies hard but today the supply chain is flourishing with many current trends emerging that should dominate the industry.
Micro warehouses and last mile logistics will focus on placing inventory closer to the customer in densely populated urban areas to provide efficient and fast last-mile deliveries and better meet the demand for same-day and next-day.Increased demand for 3PL and 4PL services due to the rise in e-commerce. They will offer cost-effective and faster models to meet the demands.
Why is it important to remain compliant in logistics?
Sally:   "Consequences of non-compliance are clear, but there are other issues that can come about that are less direct than the punitive measures countries enact. If your items are held up at the border because of non-compliance, they aren't getting in the hands of the buyer, which means delays, added costs, and frustrated customers."
As 2022 ends and 2023 dawns, many predictions have been made that include:
Increasing freight prices will remain an issue due to ship charter rates and ongoing port congestion.Global labor shortages due to layoffs and lockdowns will persist.Continued automation will have a sharp focus on artificial intelligence (AI).Sustainable shipping will grow to reduce the carbon footprint.A significant increase in the use of IoT and blockchain technology to create greater compliance with a strong focus on updates throughout the entire journey for companies and consumers.
Discover What Sets Sobel Apart
Establishes clear metrics to show measurable success to meet goals.Assists with determining the end goal.Has a firm knowledge of the industry's regulatory environment.Ability to create cost-effective policies and procedures.
How does Sobel's compliance team differ from the competition?
Sally:   At Sobel we take Compliance very seriously because we know how important it is.  We stay up to date with the rule changes in the indusatry, we create effective policies and procedures, we hold our team accountable, we conduct audits, etc.
Re-Write of USC Regulation 111
Change is positive when it fosters forward movement. However, it is going to take time to become familiar with the language and procedure, but if we follow the book, it should not prove overly difficult.
How do you feel about the new re-write USC regulation 111:
Sally:   Sometimes change is good, specially when change lead you to moved forward. It will take time to get familiarized with the language and the procedures but if we follow by the book, it should not be so difficult.
Read the full conversation with Sobel Network Shipping Co., Inc., Regional Director of Compliance, Sally T. Rosales.
https://www.sobelnet.com/compliance-in-logistics/ 
Let Sobel's knowledge of compliance and established skillsets take you into 2023 and beyond!
View original content to download multimedia:https://www.prnewswire.com/news-releases/sobels-focus-remains-on-compliance-301681943.html
SOURCE Sobel Network Shipping Co
Stack Sports Announces New Ecosystem of Products in Australia, New Zeland, and the UK
MELBOURNE, Australia, Dec. 5, 2022 /PRNewswire/ — Stack Sports, a global leader in sports technology, today are excited to announce that the GameDay and Stack Team App products are combining forces to provide an end-to-end solution for sports organizations internationally.
These two teams will now focus on bringing together the best features of both products to better serve sports. Once the integration is complete partners can expect seamless data flow between the governing organizations, competitions, and teams.
To add to the upcoming product innovation, GameDay and Stack Team App will now offer Partners the full set of solutions within the Stack Sports Ecosystem. Designed to make sport easier for organizations the ecosystem includes solutions for Officials, Tournaments, Travel, Learning Management, Photo Distribution, and NFTs. Partners can now get even more value from their existing Partnership with Stack Sports. 
In addition to the new ecosystem product offerings, Stack Sports is also announcing two new leadership roles at GameDay and Stack Team App.
To better serve Partners, Stack Team App CEO & Founder Rob Fletcher will take on the role of Managing Director of International Operations for Stack Sports, whilst Daniel Smith, currently in the position of Global Partnerships Manager at Stack Team App, will move into the position of General Manager at Stack Team App.
These new appointments will further align the operations of this innovative future offering and they will work together to create new innovation globally.
Rob Fletcher jointly launched Stack Team App in Feb 2013 and has been involved with grassroots sporting clubs for over 20 years. "Having used and admired GameDay's technology for years from afar, I'm excited about re-establishing the business as the premier sports technology platform for administrators across our core markets. The business has made significant enhancements to the existing technology, providing our users more functionality than ever before."
Daniel Smith, who's been with Stack Team App for over 4 years, has 12+ years of initiating and delivering sustained commercial growth in the ever-expanding sports and technology industries. "Rob has established Stack Team App as the market leader in youth sport communication and I'm excited to continue that success. We are in a strong position with new and innovative products being released in the coming months and I'm looking forward to overseeing all facets of the business to continue our expansion and growth globally".
About Stack Team App
Stack Team App is an Australian-based smartphone app trusted by more than 7 million members and over 250,000 sporting clubs, teams, leagues and social groups in 150+ countries across the globe. Stack Team App has helped transform the way coaches, team managers and volunteers are able to communicate and engage with their members. Choosing from a huge range of features, a fully customized app with a dynamically updating website can be created for free in less than 10-minutes.
Located in one of the world's great sporting cities of Melbourne, Australia, Stack Team App started with a passion to support local community sporting clubs and help them prosper in a technological world. To learn more about how Stack Team App can help your team, go to www.stackteamapp.com  or download Stack Team App from the App Store or Google Play.
About GameDay
GameDay, part of the Stack Sports family, have been providing next-generation sports management technology solutions in the Australian market since 2001 and has extended its key markets to include the United Kingdom, Europe and New Zealand. GameDay provides a range of solutions including membership management, competition and tournament management, event/ticketing platforms and various digital websites, e-commerce, and online auction fundraising solutions. GameDay works with a wide variety of organisations including grassroots sporting clubs/associations, professional clubs/teams, national governing bodies, and event providers along with charities and foundations. 
About Stack Sports
With over 50 million users in 35 countries, Stack Sports is a global technology leader in SaaS platform offerings for the sports industry. The company powers the sports experience through world-class software and services to support national governing bodies, youth sports associations, leagues, clubs, parents, coaches, and athletes. Some of the largest and most prominent sports organizations, including the U.S. Soccer Federation, Little League Baseball and Softball, USA Lacrosse, and NFL Flag, rely on Stack Sports technology to run and manage their organizations. Stack Sports is headquartered in Dallas and focused on growing participation in sports through Grassroots Engagement, Participation Growth Technology, Recruiting Pathways, and Elite Player Development. To learn more about how Stack Sports is transforming the sports experience, please visit https://stacksports.com/.
SOURCE Stack Sports
Sunbird Messaging Announces Beta App, Brings iMessage and Unified Messaging to Android Users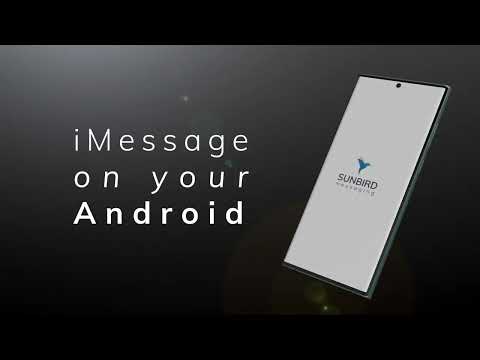 Sunbird is a new messaging app that gives Android users a fully featured iMessage and the ability to unify the world's most popular messaging apps in one app inbox.
NEW YORK, Dec. 2, 2022 /PRNewswire/ — Sunbird Messaging app has launched its closed beta community. The app is the first and only fully featured "iMessage for Android" app that only requires your Android phone. (No personal server, Apple device, or desktop software is required.)
We've solved 14 years of communications challenges associated with Android messaging…By inventing a new technology…
With Sunbird, there are no more green bubbles. Users get security (encryption), internet messaging, full-quality media, iMessage group chats, reactions/tap backs, live-typing, and read receipts, with plans to add new features regularly.
Android users can join the "early bird" list to be the first to receive an invitation to access the Sunbird beta user group. Sunbird will roll out invitations in phases to join the closed beta user group beginning in late 2022.
Sunbird offers an authentic unified messaging experience. The beta launch will include the ability to communicate securely with iMessage, SMS/MMS, WhatsApp, and Facebook Messenger—with more message app types added over the coming months.
"We've solved 14 years of communications challenges associated with Android messaging," states Danny Mizrahi, CEO, and Founder of Sunbird Messaging. "By inventing new technology that gives Android users iMessage on Android, one can enjoy the most popular functions and features uniting the top messaging apps that people use every day. One inbox for all your messages." Mizrahi adds.
The Sunbird messaging servers never store user or personal data, ensuring a safe, secure, and private messaging experience. All message types, except for traditional SMS, are end-to-end encrypted at all times. Two-factor authentication is fully supported.
Android users can join the early bird invitation list at sunbirdapp.com. The product development roadmap is also shared there, including timelines of future releases and updates to the app: Telegram, RCS, Instagram Direct Messaging, Slack, Signal, Discord, and many more.
"Another benefit to the Sunbird app is it helps to solve bullying issues that have historically come from the green and blue chat bubbles," says Mizrahi. "A January 2022 WSJ article headline included …Teens Dread the Green Text Bubble. With the Sunbird app, we want to help end this issue among teens and adults," Mizrahi adds.
About Sunbird Messaging
Founded in 2022, Sunbird Messaging is the first and only iMessage Android & web app that allows users to unify the world's most popular messaging apps into one app inbox, including iMessage, SMS/MMS, Facebook Messenger, and WhatsApp. (No desktop software/server is required, only an Android phone. ) More message app types, such as Telegram, Signal, RCS, Instagram Messenger, Slack, Line, and Discord, will be included in future updates. Sunbird Messaging servers never store user messages, ensuring safety, security, and privacy. Join the waitlist at Sunbirdapp.com. Follow @Sunbirdapp on Instagram, Twitter, YouTube, and LinkedIn, and @SunbirdMessaging on Facebook.
View original content to download multimedia:https://www.prnewswire.com/news-releases/sunbird-messaging-announces-beta-app-brings-imessage-and-unified-messaging-to-android-users-301692642.html
SOURCE Sunbird Messaging App
New Driver Training Developed at Cincinnati Children's Keeps Teens with ADHD Safer Behind the Wheel
Integrated Desktop and Simulator Training Reduced Crash Risk by 40%
CINCINNATI, Dec. 1, 2022 /PRNewswire/ — Roadways can be a dangerous place for teen drivers, even more so for those diagnosed with attention-deficit/hyperactivity disorder (ADHD). This is because those with ADHD may have difficulty sustaining visual attention to the roadway, especially when distracted.
"This training improves attention, reduces crash risk, and has the potential to save lives." —
Jeff Epstein
, PhD
Now, an ADHD driver's training program developed at Cincinnati Children's reports success at reducing the frequency of long, distracted glances away from the road that often occur among youth with ADHD. Details were published December 1, 2022, in The New England Journal of Medicine.
"This training improves teen drivers' attention to the roadway, reduces crash risk and has the potential to save lives," says the study's principal investigator Jeff Epstein, PhD, a pediatric psychologist with the Division of Behavioral Medicine & Clinical Psychology at Cincinnati Children's.
Trainees Had Fewer Crashes/Near-Crashes
The study details outcomes of the FOCAL+ training program, which expands upon a desktop-based software platform called FOcused Concentration and Attention Learning (FOCAL). This study enrolled 152 teen drivers with ADHD, aged 16-19, and split them into two groups. The 76 teens assigned to FOCAL+ participated in multiple training sessions that involved wearing special eye-tracking monitors that detect "long" glances (2 seconds or more) away from the roadway during simulated driving.
When long glances away from the road occurred while drivers were performing secondary tasks in the simulator (i.e., searching for a visual symbol on the driving console), an alarm sounded. The 76 teen drivers assigned to the control group learned about driver safety and then, like the FOCAL+ drivers, participated in multiple training sessions while wearing an eye tracker which required them to perform the same secondary task as the FOCAL+ group. However, control drivers did not get alerts when they glanced away from the road for too long.
One month after training, teens in the control group had 28.05 long glances during driving simulation per drive compared to just 16.52 long glances for the FOCAL+ group—a 41% difference. Six months later, both groups slightly improved at avoiding long glances, but those who received the FOCAL+ training maintained a 42% edge. The study also reports that non-trained drivers were more variable than trained ones in their lane position–a driving indicator related to crash risk.
To measure the impact of the training on real-world driving, drivers in both groups had an eye-tracking camera attached to the windshield in their vehicles for a year. Teens who received FOCAL+ training had fewer long-glances and crashes and near crashes than the control group. In fact, there were 40% fewer crashes and near crashes among the FOCAL+ trained group (3.4%) than the control group (5.6%). None of the crashes involved fatalities.
These findings suggest teens with ADHD were able to generalize trained skills to real-life settings, Epstein says. 
Next Steps
As a result of the success of the study, Cincinnati Children's is now offering this training to teens with ADHD. The five-session program will cost $250. Those interested in participating can call 513-636-8107 or visit the website to see if they or their teen qualify.
"Our ultimate goal is to make this training available to all teen drivers with ADHD," said Epstein. "The hope is to reduce teen driving injuries and fatalities and to provide parents with added comfort about their teen driver's safety."
Epstein notes that the sample of drivers in this study was limited to one geographic region and results may not be the same for drivers in other regions. But the results justify pursuing the programs further. The team plans to apply for grants to further investigate program efficacy. 
The program founders also are studying ways to expand the program to other ADHD care providers, and perhaps other driving instruction providers. 
The challenges ahead include scaling up the program and finding supporting sponsors. 
Video, sound and photos are available at link below. Please courtesy Cincinnati Children's Hospital
https://spaces.hightail.com/space/EWZGcXantm
View original content to download multimedia:https://www.prnewswire.com/news-releases/new-driver-training-developed-at-cincinnati-childrens-keeps-teens-with-adhd-safer-behind-the-wheel-301691856.html
SOURCE Cincinnati Children's Hospital Medical Center