H3C AD-WAN Solution Helps LiveCom's Global SD-WAN Operation

KUALA LUMPUR, Malaysia, Dec. 6, 2022 /PRNewswire/ — According to Omdia's report, the compound growth rate of the global SD-WAN market will reach 11.9% from 2021 to 2027, and the market size will exceed USD 10 billion by 2027, continuing to lead the enterprise network service market. In recent years, as the epidemic accelerated the digital transformation of the industry, more and more enterprises have chosen cloud, and the demand of enterprises for campus networks, data centers and wide area networks has increased rapidly. The SD-WAN (Software-Defined Wide Area Network) has attracted the attention of more enterprises and service providers because it helps enterprises to achieve quality cloud in a more flexible connection mode, while reducing the cost of WAN.
Although the SD-WAN has a broad market prospect, in fact, the existing SD-WAN solutions cannot fully meet the customer demands. Presently, in Chinese market, most manufacturers lack the capability to optimize end-to-end network resources, so it is difficult to provide a complete set of solutions. In the international market, the solutions of some manufacturers are realized through mergers and acquisitions, which causes problems such as high prices, difficult operation and maintenance, long development cycle, etc., which greatly affects the deployment progress of the SD-WAN.
Based on the insight into the industry pain points, H3C AD-WAN solution, with the concept of "application-driven network", carries out innovative explorations around technical architecture, business experience, security protection and control, operation and maintenance management, business model and other fields, offers new features such as new service modes, WAN optimization, multi-cloud connection, end-to-end SRv6, SASE business automation, etc., and helps the customers build full-scenario, whole-domain and full-lifecycle intelligent WANs, which can better meet the requirements of the operators in the "post-epidemic" era for end-to-end control, operation, and maintenance for SD-WAN construction. This solution has now been applied to overseas market.
H3C and LiveCom Cooperate Closely to Explore New SD-WAN Modes
In March, 2021, the Ministry of Industry and Information Technology issued the Action Plan for Coordinated Development of the "Double Gigabit" Network (2021-2023), proposing to adopt the SD-WAN technical solution to optimize network transmission quality. As encouraged by this policy, the three major domestic telecom carriers have invested in the research and development of SD-WAN intelligent dedicated lines, and the WAN architecture has also turned to SD-WAN in an all-round way.
LiveCom is an international carrier that has long been dedicated to cross-border communication information services. With the global business expansion of LiveCom, the number of POP nodes deployed overseas and the volume of business carried by the backbone networks increase. Therefore, the forwarding delay, site deployment, network resource optimization, business operation and maintenance management of its global network are facing greater challenges. In order to further enhance its competitiveness in the global market, LiveCom needs a powerful partner to help upgrade its SD-WAN services in an all-round way, and it is just the right time to cooperate with H3C.
After testing SD-WAN products of several manufacturers, LiveCom made a long-term cooperation decision with H3C in less than three months due to the strong advantages of H3C, such as advanced and steady products, professional technicians, and comprehensive service coverage.
In the cooperation mode in which H3C provides overall solutions and products, and LiveCom provides lines and technical support, both parties have finally provided customers with high-quality bandwidth operation services based on SD-WAN solutions. At the application level, in the headquarters and branch scenarios, H3C provides hardware  products and SD-WAN controllers for deployment, which help LiveCom to establish multiple POP points around the world and deploy branch routers for enterprises. In addition, through the northbound API interface of the SD-WAN solution provided by H3C, LiveCom can customize the display interfaces according to the actual needs of customers, and comprehensively improve the customer experience in operation and maintenance.
During the cooperation, both sides have gradually formed a benign and interactive cooperation mode through joint efforts. In the early stage, with deep experience in hardware and solutions, H3C organized pre-sales and after-sales training for LiveCom's technicians in operation, troubleshooting, and calling northbound interfaces of the routers, so as to help them enhance their experience in operating large and medium-sized SD-WAN networks. Besides, H3C provided mature cases for LiveCom, and engineers from both sides jointly deployed the SD-WAN platform. LiveCom was responsible for giving feedbacks of new customer demands to H3C, and both parties jointly analyzed customer demands to provide improved SD-WAN functions and services and solve the problems of the customers.
Five Advantages Help LiveCom in Global SD-WAN Operation
With the joint efforts of both parties, LiveCom has launched the global SD-WAN network access service, which is based on the global SD-WAN network infrastructure built at global POP nodes of LiveCom's high-speed backbone network, helping enterprises to quickly build high-quality cross-border communication networks to reduce WAN expenses and improve business access experience.
Based on the AD-WAN solution, H3C has formed five advantages to help LiveCom provide global SD-WAN operation services:
I. Relying on advantageous global POP networking, access to the nearest points. LiveCom's extensive deployment of global POP points can adapt to mainstream Internet access in various regions, and users of multinational enterprises can access the nearest points. Besides, the Overlay between POP points adopts Full-mesh connection, which does not need transit traffic and reduces forwarding delay.
II. Simple deployment, quick launch of business. H3C's AD-WAN solution has a variety of automatic start-up capabilities, allowing customer sites to be operated without professional IT personnel; the equipment replacement is convenient and plug-and-play, and all business configurations can be automatically deployed with the controller after the new equipment is launched. It also supports the rapid deployment of vCPE on mainstream public clouds of the world. The site launch time is shortened from 3-5 days to 10 minutes, which greatly improves the efficiency of network administrators.
III. Intelligent path selection to improve resource utilization. Through "Internet+MPLS" hybrid link networking, it supports bandwidth bundling and multiple links carrying the same session; working with multi-link intelligent scheduling and QoS strategy, it can ensure SLA for critical application, improve link utilization, and reduce repeated purchases by customers.
IV. Centering on customer scenarios to realize centralized control and targeted optimization of applications. Based on the DPI configuration strategy, the centralized Internet access of designated applications and local Internet access of other applications can be realized, which can optimize enterprise applications in a targeted manner and enhance user experience; The one-click escape setting ensures uninterrupted cross-border access, and the DNS management realizes application access control, which ensures smooth and stable internet access without affecting business access.
V. Unified management to realize intelligent operation and maintenance. The AD-WAN solution provides the northbound interfaces, which help LiveCom realize customized Portals; the VPN isolation strategy is implemented for multiple tenants, with decentralized, multi-level management; Visual applications and automatic generation of a variety of reports ensure users to view the operating conditions at a glance, thus greatly improving the efficiency of operation and maintenance.
H3C Joins Hands with LiveCom to Achieve a Win-win Situation of SD-WAN Overseas
So far, H3C and LiveCom has jointly completed a number of SD-WAN projects, set up SD-WAN headquarters and branch network deployment in many countries around the world, and provided services to dozens of overseas Chinese-funded enterprises.
The cooperation between LiveCom and H3C demonstrates the strong strength of H3C's AD-WAN solution. In addition, H3C's SD-WAN projects have passed tests and been successfully implemented in many countries, and have been recognized by more and more overseas customers. As one of H3C's overseas solutions, the AD-WAN solution has witnessed the process during which H3C and LiveCom jointly built a benchmark for overseas practice. It is the SD-WAN capability, which is leading in the industry, and rich practical experience that have laid the foundation for the in-depth cooperation between both parties.
Based in China, going global in the digital journey. In the future, H3C will continue to consolidate its own advantages, continuously export advanced SD-WAN technologies, and work with LiveCom to provide more professional and efficient SD-WAN services to global customers.
Photo – https://mma.prnewswire.com/media/1961446/image.jpg
Video – https://mma.prnewswire.com/media/1961555/video.mp4 
View original content:https://www.prnewswire.co.uk/news-releases/h3c-ad-wan-solution-helps-livecoms-global-sd-wan-operation-301695718.html
AgentSync Appoints Guidewire CEO Mike Rosenbaum to Board of Directors

DENVER, Jan. 12, 2023 /PRNewswire/ — AgentSync, the company that's powering growth and operational efficiency for insurance carriers, agencies and MGAs with world-class producer management and compliance solutions, today announced the appointment of Guidewire Chief Executive Officer Mike Rosenbaum to its Board of Directors. Rosenbaum's leadership and in-depth corporate experience in insurance and technology will help AgentSync on its mission to revolutionize and modernize insurance compliance.
I look forward to leveraging my capabilities and network in insurance and SaaS to continue driving momentum at AgentSync
"We welcome Mike's skill set as both an insurance and SaaS leader," said Niji Sabharwal, Chief Executive Officer of AgentSync. "His experience running the largest insurance core system business on the planet, combined with his 14 years leading product teams at Salesforce, make him a one-of-a-kind fit to help direct the company through this next stage of growth."
Rosenbaum has been Chief Executive Officer of Guidewire since 2019, where he oversees the company's position as a top software provider to the global Property and Casualty insurance industry. He also ensures the success of the Guidewire customer community, and directs the advancement of its cloud offerings. Rosenbaum spent 14 years at Salesforce and most recently served as Executive Vice President, with responsibility for customer success and product development.
"AgentSync is a company with a bright future, and I am thrilled to be able to play a role in its success and growth going forward," said Rosenbaum. "The company's insurance compliance and producer management solutions unlock significant value for carriers, agencies and MGAs, and I look forward to leveraging my capabilities and network in insurance and SaaS to continue driving momentum for the organization," he said.
About AgentSync
AgentSync builds modern insurance infrastructure that connects carriers, agencies, MGAs, and producers. The company's solutions create onboarding, licensing, and appointing processes insurers and producers love while ensuring growth and compliance never compete. Founded in 2018 by Niranjan "Niji" Sabharwal and Jenn Knight, and headquartered in Denver, Colo., AgentSync has been recognized as one of Denver's Best Places to Work, as a Forbes Magazine Cloud 100 Rising Star, and an Insurtech Insights Future 50 winner.
View original content to download multimedia:https://www.prnewswire.com/news-releases/agentsync-appoints-guidewire-ceo-mike-rosenbaum-to-board-of-directors-301720518.html
SOURCE AgentSync
Snow Joe® Breaks The Ice For Winter 2023 With Its Innovative Impact-Reducing Steel Ice Chopper
High-quality steel craftsmanship and spring-loaded, shock-absorbing design make for the most efficient ice chopper to date
HOBOKEN, N.J., Jan. 12, 2023 /PRNewswire/ — Snow Joe, America's #1 brand of snow throwers, debuts its latest ice-breaking innovation: the 7-inch Spring-Loaded Impact-Reducing Steel Ice Chopper with Shock-Absorbing Handle. Engineered to alleviate the painstaking task of chopping hard-packed ice, the Snow Joe Ice Chopper features a unique spring-loaded, durable poly handle with a reinforced, D-ring grip to absorb the shock from ice chopping and reduce the strain on both your wrists and shoulders. Its durable, 7-inch carbon steel chopper blade and heavy-duty, 39.7-inch steel shaft offer control and precision to swiftly scrape, slice, dice and break through layers of tough ice and hard-packed snow on driveways, decks, steps, sidewalks, patios, and more!
"This is no ordinary ice chopper…consumers can break ice smarter, not harder, all winter long."   –
Paul Riley, Jr.
, COO
"This is no ordinary ice chopper," says Paul Riley, Jr., Chief Operating Officer at Snow Joe. "With its state-of-the-art steel construction and the significant ease of the spring-loaded, shock-absorbing handle, consumers can break ice smarter, not harder, all winter long."
Weighing only 3.2 pounds, the Snow Joe Ice Chopper is easy to maneuver and stores compactly.  Plus, it comes with a complete two-year warranty, so consumers can enjoy strain- and pain-free ice removal around their homes, yards, gardens, and garages for seasons to come.
To date, the Snow Joe Chopper has garnered over 3,700 reviews with an average rating of 4.6 out of 5 stars, earning Amazon's choice for best ice chopper!  So, when it comes to ice, don't play nice—Go With Joe® and Get Equipped® with the Snow Joe 7-inch Spring-Loaded Impact-Reducing Steel Ice Chopper with Shock-Absorbing Handle, available while supplies last at snowjoe.com and Amazon.
About Snow Joe
Snow Joe — and its complementary brands Sun Joe®, Aqua Joe®, and Auto Joe® — planted its roots in 2004 as a digitally native, direct-to-consumer company that designs, develops, and distributes high-quality, yet affordable, lawn and garden tools. It has grown to become a leader in electric and cordless snowblowers and electric pressure washers, and now offers a wide range of tools to tackle any outdoor chore, any season. For more information, visit https://snowjoe.com/ or connect on Facebook and Instagram. 
© 2023 Snow Joe, LLC. All Rights Reserved. AUTO JOE, AQUA JOE, SNOW JOE and SUN JOE are registered trademarks of Snow Joe, LLC.
View original content to download multimedia:https://www.prnewswire.com/news-releases/snow-joe-breaks-the-ice-for-winter-2023-with-its-innovative-impact-reducing-steel-ice-chopper-301720436.html
SOURCE Snow Joe LLC
CCTV+: China's top disciplinary body adopts communique to promote full, rigorous Party self-governance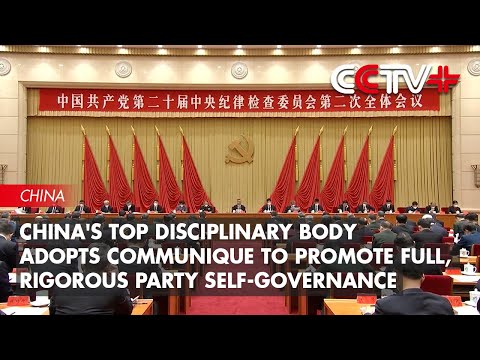 BEIJING, Jan. 11, 2023 /CNW/ — The Communist Party of China's (CPC) top disciplinary body on Tuesday pledged in a communique that studying and implementing the guiding principles of the 20th CPC National Congress will be the primary political task now and in the near future, and constantly promoting full, rigorous Party self-governance.
The communique was adopted at the second plenary session of the 20th Central Commission for Discipline Inspection (CCDI) of the CPC, which was held in Beijing from Monday to Tuesday.
Xi Jinping, general secretary of the CPC Central Committee, Chinese president and chairman of the Central Military Commission, attended the session and made an important speech.
The speech made by Xi at the session was studied, and it was agreed that it provided fundamental guidance for advancing the great new project of Party building in the new era and the disciplinary inspection and supervision work on China's new journey in the new era, according to the communique, which called on all Party members to study and implement the spirit of Xi's speech.
Discipline inspection and supervision organs must take the study and implementation of the guiding principles of the 20th CPC National Congress as a primary political task at the current stage and in the years to come, and turn effective implementation of the guiding principles into a strong driving force to promote high-quality development of the disciplinary inspection and supervision work on the new journey of the new era.
An eight-point requirement was put forward by the session:
To focus on implementation of the strategic decisions of the 20th CPC National Congress to intensify political oversight;To promote improvement of the systems and regulations for the Party's self-reform;To ensure that political inspections serve as a powerful tool;To implement the central Party leadership's eight-point decision on improving conduct with perseverance, tackle pointless formalities, bureaucratism, hedonism, and extravagance;To make all-around efforts to tighten Party discipline;To win the tough and protracted battle against corruption;To advance reform of the discipline inspection and supervision system in an in-depth manner;And to develop qualified human resources capable of shouldering responsibilities in discipline inspection and supervision on the new journey in the new era.
Link: https://www.youtube.com/watch?v=qUSUK9dwD4s
View original content to download multimedia:https://www.prnewswire.com/news-releases/cctv-chinas-top-disciplinary-body-adopts-communique-to-promote-full-rigorous-party-self-governance-301719413.html
SOURCE CCTV+