Trading Cattle Carbon Credit Starts at CES 2023!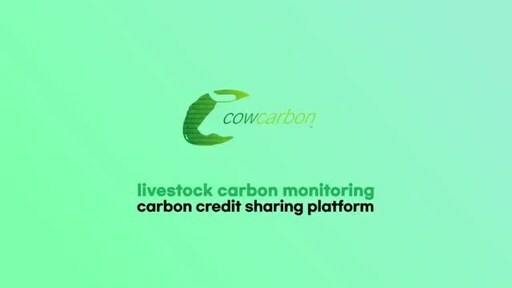 SEATTLE, Jan. 4, 2023 /PRNewswire/ — There is a Company coping with the global climate crisis and declaring a bold vision and technology of carbon neutrality in the livestock sector. Melliens Inc's Livestock Carbon Monitoring & Carbon Credit Sharing Platform enables beef producers to generate and sell carbon credits for practicing less carbon intensive agriculture than the current industry standard.
"The Cow Carbon platform reliably generates carbon credits based upon inputs. We are proud to present a technology promoting a cleaner environment and healthier earth" said Dr. Lee Hakkyo, Melliens Founder and Professor of Joenbuk National University.
To move towards a net-zero future, science-based, sustainable, and innovative action needs to be taken. Melliens is the first Climate technology company to monitor the carbon footprints of beef cattle and trade accumulated carbon credits in carbon markets.
Our home planet earth is at risk. The agricultural sector accounts for 24% of Global GHG emissions. Cattle GHG emissions are the most pressing agricultural emissions issue, at 10% in 2020, and could comprise 40% of agricultural emissions by 2050 if sector emissions are not reduced.
Carbon footprint is difficult to measure for beef products as biological variation in individual cattle, insufficient data, inaccurate data, falsifiable data, and high cost to measure, make individualized beef GHG emissions infeasible.
In order to solve this problem, Melliens has developed the cowcarbon platform. This platform service quantifies and verifies the reduced carbon emissions, thus generating carbon credits in real-time. Anyone can purchase carbon credits and profits are shared with beef suppliers.
Venture capital has responded accordingly; Salim Dada, Managing Director and CEO at Concord Ventures noted: "Melliens is building a connection between beef farmers and the tech world to share benefits by trading accumulated carbon credits in voluntary carbon markets"
Melliens encourages carbon credits buyers to join in saving the earth. Tokenizing carbon credits has an important role to induce the participation of the general public, consumers, and companies in profit-sharing with livestock farmers. It creates a tradable commodity, and a transparent market accessible to anyone. The first tokenized cowcarbon is launching soon.
Melliens is committed to continually reducing the beef carbon footprint to 50% of world average by 2030 and building a healthy beef industry ecosystem through science, open innovation, and easy access to blockchain-based rewards through its financing system
About Melliens, Inc.
Melliens was incorporated in 2021 as a result of 10 years of R&D and $56M invested by the government.
Melliens is a start-up company founded by professors for the purpose of technology commercialization of the Jeonbuk National University, LINC3.0 Project Group.
Melliens US Headquarter is located in Kirkland, WA with R&D center and Korean HQ in Jeonju, South Korea. The company is led by an outstanding team who are accomplished PhDs and scientists in the areas of big data, bioinformatics, biotech, and business. Melliens US is led by Ms. Teresa Park, she was former M&A advisor who has experience at the investment banking industry.
Oct. 2022, Melliens has joined an international network of people and organizations powering progress in beef sustainability – the Global Roundtable for Sustainable Beef (GRSB). Alongside the likes of Zoetis, Cargill, JBS, Tyson, Rabobank, and Merck, amongst others, Melliens joins GRSB to actively improve the sustainability of the global beef supply chain.
View original content to download multimedia:https://www.prnewswire.com/news-releases/trading-cattle-carbon-credit-starts-at-ces-2023-301713713.html
SOURCE Melliens
AgentSync Appoints Guidewire CEO Mike Rosenbaum to Board of Directors

DENVER, Jan. 12, 2023 /PRNewswire/ — AgentSync, the company that's powering growth and operational efficiency for insurance carriers, agencies and MGAs with world-class producer management and compliance solutions, today announced the appointment of Guidewire Chief Executive Officer Mike Rosenbaum to its Board of Directors. Rosenbaum's leadership and in-depth corporate experience in insurance and technology will help AgentSync on its mission to revolutionize and modernize insurance compliance.
I look forward to leveraging my capabilities and network in insurance and SaaS to continue driving momentum at AgentSync
"We welcome Mike's skill set as both an insurance and SaaS leader," said Niji Sabharwal, Chief Executive Officer of AgentSync. "His experience running the largest insurance core system business on the planet, combined with his 14 years leading product teams at Salesforce, make him a one-of-a-kind fit to help direct the company through this next stage of growth."
Rosenbaum has been Chief Executive Officer of Guidewire since 2019, where he oversees the company's position as a top software provider to the global Property and Casualty insurance industry. He also ensures the success of the Guidewire customer community, and directs the advancement of its cloud offerings. Rosenbaum spent 14 years at Salesforce and most recently served as Executive Vice President, with responsibility for customer success and product development.
"AgentSync is a company with a bright future, and I am thrilled to be able to play a role in its success and growth going forward," said Rosenbaum. "The company's insurance compliance and producer management solutions unlock significant value for carriers, agencies and MGAs, and I look forward to leveraging my capabilities and network in insurance and SaaS to continue driving momentum for the organization," he said.
About AgentSync
AgentSync builds modern insurance infrastructure that connects carriers, agencies, MGAs, and producers. The company's solutions create onboarding, licensing, and appointing processes insurers and producers love while ensuring growth and compliance never compete. Founded in 2018 by Niranjan "Niji" Sabharwal and Jenn Knight, and headquartered in Denver, Colo., AgentSync has been recognized as one of Denver's Best Places to Work, as a Forbes Magazine Cloud 100 Rising Star, and an Insurtech Insights Future 50 winner.
View original content to download multimedia:https://www.prnewswire.com/news-releases/agentsync-appoints-guidewire-ceo-mike-rosenbaum-to-board-of-directors-301720518.html
SOURCE AgentSync
Snow Joe® Breaks The Ice For Winter 2023 With Its Innovative Impact-Reducing Steel Ice Chopper
High-quality steel craftsmanship and spring-loaded, shock-absorbing design make for the most efficient ice chopper to date
HOBOKEN, N.J., Jan. 12, 2023 /PRNewswire/ — Snow Joe, America's #1 brand of snow throwers, debuts its latest ice-breaking innovation: the 7-inch Spring-Loaded Impact-Reducing Steel Ice Chopper with Shock-Absorbing Handle. Engineered to alleviate the painstaking task of chopping hard-packed ice, the Snow Joe Ice Chopper features a unique spring-loaded, durable poly handle with a reinforced, D-ring grip to absorb the shock from ice chopping and reduce the strain on both your wrists and shoulders. Its durable, 7-inch carbon steel chopper blade and heavy-duty, 39.7-inch steel shaft offer control and precision to swiftly scrape, slice, dice and break through layers of tough ice and hard-packed snow on driveways, decks, steps, sidewalks, patios, and more!
"This is no ordinary ice chopper…consumers can break ice smarter, not harder, all winter long."   –
Paul Riley, Jr.
, COO
"This is no ordinary ice chopper," says Paul Riley, Jr., Chief Operating Officer at Snow Joe. "With its state-of-the-art steel construction and the significant ease of the spring-loaded, shock-absorbing handle, consumers can break ice smarter, not harder, all winter long."
Weighing only 3.2 pounds, the Snow Joe Ice Chopper is easy to maneuver and stores compactly.  Plus, it comes with a complete two-year warranty, so consumers can enjoy strain- and pain-free ice removal around their homes, yards, gardens, and garages for seasons to come.
To date, the Snow Joe Chopper has garnered over 3,700 reviews with an average rating of 4.6 out of 5 stars, earning Amazon's choice for best ice chopper!  So, when it comes to ice, don't play nice—Go With Joe® and Get Equipped® with the Snow Joe 7-inch Spring-Loaded Impact-Reducing Steel Ice Chopper with Shock-Absorbing Handle, available while supplies last at snowjoe.com and Amazon.
About Snow Joe
Snow Joe — and its complementary brands Sun Joe®, Aqua Joe®, and Auto Joe® — planted its roots in 2004 as a digitally native, direct-to-consumer company that designs, develops, and distributes high-quality, yet affordable, lawn and garden tools. It has grown to become a leader in electric and cordless snowblowers and electric pressure washers, and now offers a wide range of tools to tackle any outdoor chore, any season. For more information, visit https://snowjoe.com/ or connect on Facebook and Instagram. 
© 2023 Snow Joe, LLC. All Rights Reserved. AUTO JOE, AQUA JOE, SNOW JOE and SUN JOE are registered trademarks of Snow Joe, LLC.
View original content to download multimedia:https://www.prnewswire.com/news-releases/snow-joe-breaks-the-ice-for-winter-2023-with-its-innovative-impact-reducing-steel-ice-chopper-301720436.html
SOURCE Snow Joe LLC
CCTV+: China's top disciplinary body adopts communique to promote full, rigorous Party self-governance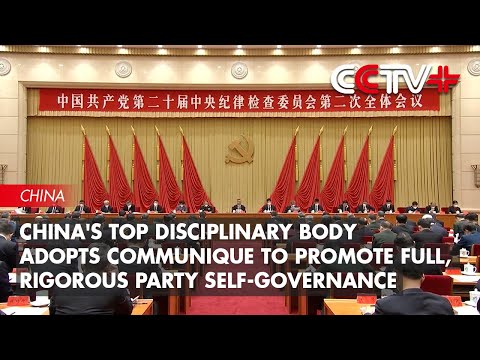 BEIJING, Jan. 11, 2023 /CNW/ — The Communist Party of China's (CPC) top disciplinary body on Tuesday pledged in a communique that studying and implementing the guiding principles of the 20th CPC National Congress will be the primary political task now and in the near future, and constantly promoting full, rigorous Party self-governance.
The communique was adopted at the second plenary session of the 20th Central Commission for Discipline Inspection (CCDI) of the CPC, which was held in Beijing from Monday to Tuesday.
Xi Jinping, general secretary of the CPC Central Committee, Chinese president and chairman of the Central Military Commission, attended the session and made an important speech.
The speech made by Xi at the session was studied, and it was agreed that it provided fundamental guidance for advancing the great new project of Party building in the new era and the disciplinary inspection and supervision work on China's new journey in the new era, according to the communique, which called on all Party members to study and implement the spirit of Xi's speech.
Discipline inspection and supervision organs must take the study and implementation of the guiding principles of the 20th CPC National Congress as a primary political task at the current stage and in the years to come, and turn effective implementation of the guiding principles into a strong driving force to promote high-quality development of the disciplinary inspection and supervision work on the new journey of the new era.
An eight-point requirement was put forward by the session:
To focus on implementation of the strategic decisions of the 20th CPC National Congress to intensify political oversight;To promote improvement of the systems and regulations for the Party's self-reform;To ensure that political inspections serve as a powerful tool;To implement the central Party leadership's eight-point decision on improving conduct with perseverance, tackle pointless formalities, bureaucratism, hedonism, and extravagance;To make all-around efforts to tighten Party discipline;To win the tough and protracted battle against corruption;To advance reform of the discipline inspection and supervision system in an in-depth manner;And to develop qualified human resources capable of shouldering responsibilities in discipline inspection and supervision on the new journey in the new era.
Link: https://www.youtube.com/watch?v=qUSUK9dwD4s
View original content to download multimedia:https://www.prnewswire.com/news-releases/cctv-chinas-top-disciplinary-body-adopts-communique-to-promote-full-rigorous-party-self-governance-301719413.html
SOURCE CCTV+