Gold Medal Launches the Ready Series of Cashless Popcorn Vending Machines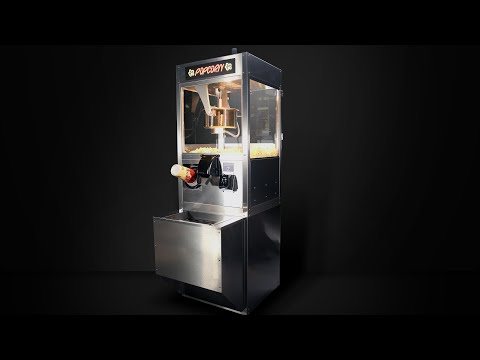 The next evolution in popcorn dispensing technology is here with the launch of the Ready Series cashless popcorn vending machines from Gold Medal.
CINCINNATI, May 3, 2023 /PRNewswire-PRWeb/ — The next evolution in popcorn dispensing technology is here with the launch of the Ready Series cashless models from Gold Medal. A complete fresh popcorn vending system, it includes a cashless payment system and a push-button dispenser. This means it's simple to pay and serve with these convenient self-serve popcorn machines.
The cashless models in the Ready Series are equipped with a programmable payment system. It includes settings for customizing pricing, dispense time, and other options. Customers can pay with a card and then serve up fresh popcorn with just the push of a button. This not only reduces labor for operators, but it also offers customers convenience.
There are three models available in the Ready Series cashless lineup:
ReadyPop® Cashless – 16-oz kettle and self-serve dispenser in one unit, holds up to 20 gallons of popcornReadyServe® One Cashless – warming cabinet with self-serve dispenser, holds up to 40 gallons of popcornReadyServe® Cashless – large warming cabinet with dual self-serve dispensers, holds up to 75 gallons of popcorn
Gold Medal president, Adam Browning says the opportunities for this type of technology are many, "The benefits of the Ready Series cashless models are practical across venues. It reduces lines, saves on labor, increases customer satisfaction, and gives guests an experience they can't find at competitors. Cashless popcorn vending machines will be a game changer for stadiums, cinemas, shopping centers, grocery stores, airports, and more."
To learn more about the complete Ready Series line, please visit gmpopcorn.com/ReadySeries or call 800-543-0862.
Pull Quote
Cashless popcorn vending machines will be a game changer…
Media Contact
Heather Gims, Gold Medal Products Co., 1 513-769-7676 2384, hgims@gmpopcorn.com, gmpopcorn.com
SOURCE Gold Medal Products Co.
Startup World Cup 2023 Chengdu Regional was successfully held in Jingrong Town, Pidu District, Chengdu
CHENGDU, China, June 2, 2023 /PRNewswire/ — On May 18th, the Startup World Cup 2023 Chengdu Regional was successfully held in Jingrong Town, Pidu District, Chengdu.
This event was hosted by Fenox Venture Capital Accelerator, Pegasus Tech Ventures, Invest Hong Kong, UESTC, Garage coffee, Hummingbird, Gao Fu (Chengdu) Incubation Center and LECHUANG Incubation Center. The winning team will compete in the Startup World Cup 2023 Asia Finale in Hong Kong, where the first prize winner will be awarded HK$30,000 and advance to the Grand Finale in Australia. They will compete in the world's largest global entrepreneurship event against 70+ regional champions, and will have the opportunity to network with world-class startups, venture capital firms, and decision-makers at world-famous companies, with the global champion receiving $1,000,000 investment prize.
The event attracted more than three hundred participants, and invited the guests and judges from Pidu Government secretary, Chengdu Tianfu Tourism Industry Investment Group Co., Ltd, JR Capital, Chengdu Talent Venture Capital Co.,Ltd, KPMG China ,etc. Meanwhile, from dozens of registered projects, 8 projects were selected to enter the road show, and the projects involved multiple fields such as the Internet of Things, Biosensors, Artificial Intelligence, Gene Editing, Smart Cities, and Green Architecture.
In the wake of a brilliant project road show and fierce competition, the winners are as follows:
2022SWC Southwestern District Most Investment Value Award – Chengdu Clonorgan Biotechnology Co., Ltd.
2023 SWC Southwest Region Most Promising Investment Award – Chongqing Novos Biotechnology Co., Ltd.
2022SWC Southwestern District Most Growth Potential Award – Chengdu SanShi Science and Technology Co., Ltd.
After the project roadshow, an event invitation was sent to industry senior experts and investors with the theme of "What opportunities and changes will AIGC bring?" Through a roundtable forum, they had in-depth discussions on the popular ChatGPT, inspiring startup companies and practitioners to think about the future.
Jingrong Town, Pidu District, boasts numerous resources for new businesses, which is laying the groundwork for long-term innovation success by importing international resources, optimizing the local project promotion mechanism, publicizing and implementing the innovation policy, and investing in the development of Jingrong Town. Today, Pidu is drawing more and more exceptional entrepreneurial and inventive firms as a world-class ecological platform for the growth of local and foreign high-tech enterprises.
View original content to download multimedia:https://www.prnewswire.com/news-releases/startup-world-cup-2023-chengdu-regional-was-successfully-held-in-jingrong-town-pidu-district-chengdu-301841952.html
SOURCE Chengdu's Jingrong Town
CGTN: Why is people-centered development crucial to China?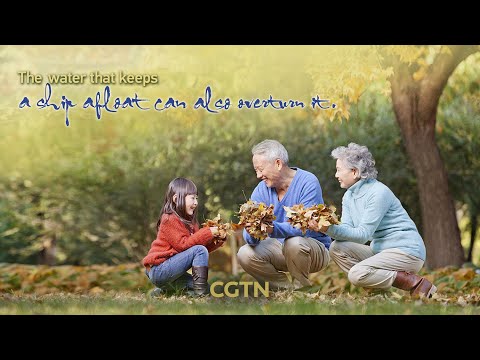 BEIJING, June 4, 2023 /PRNewswire/ — In September 2021, a Beijing resident called a city hotline to report there were no bus routes near a newly built school in the Beijing Economic-Technological Development Area.
Two months later, a new bus route was launched.
The Chinese capital, a metropolis housing over 20 million people, has adopted a new approach to city management since 2019. It now works with 49 state-owned public service enterprises and institutions to offer a major hotline service of the city.
A total of 750 lines receive questions and complaints related to public services from local residents 24 hours a day.
"We find the most frequently reported city problems or demands, based on all the hotline calls we receive, and then take action," said Geng Yu, chief of the reform division of "Handling A Complaint Upon Receipt" at the Beijing Municipal Administration of Government Affairs Services. "We put the people at the center no matter whether it is about urban governance or providing services to the people."
The approach city managers take to solve residents' problems reveals a lot about a government's mindset regarding urban management and the way it treats its people.
There's an old saying that's well known in China: "The water that keeps a ship afloat can also overturn it." Chinese President Xi Jinping, also general secretary of the Communist Party of China (CPC) Central Committee, once quoted it to describe the relationship between the people and the Party. In this case, water refers to the people while the boat refers to the Party's leadership.
The saying suggests that only by taking good care of the people's needs can the CPC win their support. That's why the CPC has made it a basic principle to serve the people wholeheartedly.
Xi has urged that "tackling problems that prompt the strongest public reaction and that threaten to erode the very foundation of the Party's governance" must be prioritized.
In the report Xi delivered to the 20th CPC National Congress in 2022, he said "we must protect the people's fundamental interests, improve their well-being, and work tirelessly to ensure that development is for the people and by the people and that its fruits are shared by the people. We must do a better job of seeing that the gains of modernization benefit all our people fairly."
Xi also stressed the significance of a basic principle: "The aspirations of the people to live a better life must always be the focus of our efforts. We must keep on striving with endless energy toward the great goal of national rejuvenation."
https://news.cgtn.com/news/2023-06-03/Why-is-people-centered-development-crucial-to-China–1kkmnFUe74Y/index.html
https://www.youtube.com/watch?v=YcDsr0qk5NM
View original content:https://www.prnewswire.co.uk/news-releases/cgtn-why-is-people-centered-development-crucial-to-china-301841855.html
Menswear Brand Highland Duds Introduces The Stack
Innovative Ecommerce Solution Reimagines UX To Deliver Effortlessly Sophisticated Style
NEW YORK, June 3, 2023 /PRNewswire/ — Direct-to-consumer menswear label, Highland Duds, announces the launch of The Stack: an innovative shopping solution designed to make styling smarter, not harder.
Rooted in a belief that timeless, quality style should be truly effortless, The Stack offers a simple set of wardrobe options edited for your life. Embracing individuality with a series of curated capsules, Highland Duds encourages customers to find a style true to their lifestyle, whether you're jetsetting the globe, seeking to elevate your 9-5 look, or refreshing core classics. The Stack features a core color palette of neutrals with bold standout shades to maximize interchangeability. Delivering a luxury experience at an attainable price point, the pieces provide expert fit crafted from the highest quality fabrics, including Pima Cotton imported from the USA. 
Looking for the perfect Father's Day gift?
Shop online at Highlandduds.com 
use code: DAD30 to get an extra 30% discount.
Expires June 12th, 2023.
(cannot be combined with any other discount)
"My goal with The Stack is to take the guesswork out of looking great. All pieces are designed to be interchangeable and mix-and-match so that effortless, stylish dressing is attainable for all who wear Highland Duds." – Brandon Aldridge, Founder of Highland Duds
Built from over 20 years of design expertise working alongside Betsey Johnson, Brandon Aldridge founded Highland Duds in 2019 on three core principles: detailed design, skilled craftsmanship, and conscious production. Translating the relaxation of effortless style into the reality of ever-changing urban life, each style is crafted with meticulous attention to detail to last far beyond a single season. Hinged on the brand's mission to deliver quality, signature styles at an accessible price point; Highland Duds merges modern style with practicality for iconic staples made to wear in, not out.
Pioneering an ethical future, all Highland Duds styles are small-batch produced in family-owned and operated factories for a slow, eco-conscious production model that prioritizes the wellbeing of workers and the environment. Founder Brandon Aldridge takes a central role in all aspects of the business, singlehandedly managing the entire design process from concept through production. Cultivating the relationship with their community which values diversity, gender-inclusivity, and body positivity; the brand currently offers a size range up to XXL.
Reinventing the industry through an enhanced ecommerce experience that is uniquely suited to each individual, The Stack brings the consumer closer to effortlessly sophisticated style than ever before.
The Stack is available at highlandduds.com with prices ranging from $156 – $233. 
For press inquiries, please contact Allison Fee at ali-fee.com
Follow us on Instagram @highlandduds 
View original content to download multimedia:https://www.prnewswire.com/news-releases/menswear-brand-highland-duds-introduces-the-stack-301841346.html
SOURCE Highland Duds