Stake Wars III is Halfway to the Finish Line: What Does This Mean for NEAR's Sharding?
The incredible Stake Wars III journey is still unfolding, but now is a good time to celebrate some important milestones. Let's look at a few quick stats and updates, as the organizers move forward in this effort to prepare NEAR's sharding to move from Phase 0 to 1.
Before we do that, there's now a leaderboard where you can see the performance of the participants. As you can see, everyone in the top 25 has a 90% or above success rate in getting their chunks online. Great job!
During the program, shardnet, the testing network set up specifically for Stake Wars, frequently had more than 1,500 active nodes participating and 400 validators (chunk + block producers) competing in 11 successful challenges in the shardnet while a few more lined up. The Stake Wars organizers will continue to operate Stake Wars exclusively in shardnet until the program ends on September 9th. 
Stake Wars will not be moved to testnet as previously announced. Testnet is used as a final staging environment, and is part of the regular release cycle. Separating that cycle from Stake Wars will allow the team to focus on the community and not on the release requirements. 
Major credit for Stake Wars' success goes to the dedicated NEAR community and partners, without whom Stake Wars wouldn't have been possible. Their thoughtful and continuous feedback shaped the program. Last but not least, a big shout-out to the entire Pagoda team, who stands tall and has been a backbone throughout the process.
Some Wins
Since the launch of Stake Wars III four weeks ago, the community has rallied a massive amount of participation–much more than previously anticipated. The stats have been stunning as shown above, and there is a tremendous amount of activity in the dedicated Discord channels, e.g. #stake-wars. Let's keep this momentum up throughout the second part of the program all the way through to the finish line and beyond!
The 11 published challenges (competitions) have helped shed light on the work required to become a successful validator. They also created a battleground in shardnet for testing chunk-only producer code.
One of the most important takeaways so far is that Stake Wars is teaching community members the ins-and-outs of running successful validator nodes. It is also offering them a pathway, through stake support, to securing seats as mainnet validators. 
Some Learnings
Win or lose, there's always something to learn. In these four intense, amazing weeks, the Stake Wars organizers have faced a series of potential setbacks, but with the help of the community the team persevered, and NEAR is a stronger ecosystem for it.
The first of these challenges was the abuse of the distribution mechanism for the shardnet token. The Stake Wars organizers addressed this issue by switching over to a delegation model to protect the network. Although this created some additional friction for participants, it did have the silver lining of introducing them to the underlying staking and delegation models in mainnet.
The other issue the Stake Wars organizers faced was handling simultaneous setup and token-distribution, which warranted creating several hard forks. Fortunately, this decision essentially helped bring the network back into a functional state. While there is no expectation that these situations will be seen in mainnet, being able to "safely" learn from them during Stake Wars contributes to an optimal operational experience for program participants. Hence, running Stake Wars in a dedicated test network (shardnet) gives the team the flexibility to respond and adapt to the different situations that may be encountered throughout the duration of the program. 
What Next? – Phase 1 of Sharding
In the run-up to the launch of Phase 1 of sharding, which is scheduled for next month, the chuck-only producer feature was released to testnet on Aug 15th. This will create more opportunities to earn rewards and further secure the NEAR Ecosystem. The chunk-only producer is also a great onramp to becoming a validator for those who may not have the $NEAR or system requirements to run a validator node since chunk-only producers are solely responsible for single shards. 
The number of validators will also increase from ~100 to ~300, and the seat price to become a validator will be lowered. This is a crucial step to better facilitate scaling, improve NEAR's decentralization, and bring the Open Web to mass adoption.
References:
It's not late yet, learn how to be chuck-only producers. And the best way to join testnet.
Join NEAR's community:
Twitter | Reddit | Youtube | Medium | Discord
The post Stake Wars III is Halfway to the Finish Line: What Does This Mean for NEAR's Sharding? appeared first on NEAR Protocol.
NEAR After NEARCON In Numbers
Anyone who made the trip to Lisbon for NEARCON 2022, or tuned in via the YouTube livestream or Twitter, knew NEARCON was a smashing success. The vibe was something to behold. From devs and builders to other visionaries and champions of NEAR, NEARCON showcased the ecosystem and community at its very best—with boundless energy for creating without limits. 
This is an energy that was also palpable to the press. Everything came together to produce  awe-inspiring momentum that is being sustained well beyond NEARCON's aftermath.
Let's take a look at NEAR by the numbers in the wake of NEARCON to see just how the NEAR community is building without limits. 
20M Accounts and 200M Transactions 
Coming out of NEARCON, the total amount of NEAR accounts hit a new high of 20 million. To be sure, this was an ecosystem and community effort. But Sweat Economy, who presented at NEARCON, is responsible for onboarding 14 million new users into the NEAR ecosystem with their move-to-earn app. That's 20x growth since this time last year! 
Thanks to NEAR's Nightshade sharding—Phase 1 of which was announced at NEARCON—this onboarding of the masses unfolded without a hitch. This example of NEAR's infinite capacity is proof that it can welcome millions more users across the 800+ apps running on the protocol.
Earlier this month, NEAR also hit a new milestone of 200 million on-chain transactions. Next up? 250 million. The ecosystem is growing by leaps and bounds, and doing so in a crypto winter. 
21 Global Media Partners
NEARCON was a major hit this year with members of the international press.  All told, the conference attracted 21 global media partners, with CoinDesk leading the pack as NEAR's top tier sponsor.  
Other major media outlets joined NEAR from around the world, including Cointelegraph, the Defiant, Coinpost Japan, W3volution Spain, and Business Insider Africa. 
Over 250 Pieces of Media Coverage
Naturally, with so many global media partners, there is quite a lot of great news to share. Seven NEAR announcements and five partnership stories were pushed out to the global media.  All together these ecosystem stories attracted 256+ pieces of coverage including a fantastic show roundup video by CryptoBanter, a hugely influential crypto YouTube channel that has over half a million subscribers. 
While US media outlets led with most of the NEARCON coverage, NEAR's flagship conference also saw consistent reporting from media in India, Korea, Vietnam and beyond. 
Media Coverage Breakdown by Country
Africa – 5 pieces of coverageBrazil – 5 pieces of coverageChina – 5 pieces of coverageFrench – 8 pieces of coverageGerman – 2 pieces of coverageItaly – 4 pieces of coverageIndia – 18 pieces of coverageJapan – 2 pieces of coverageKorea – 11 pieces of coverageSpain – 5 pieces of coverage UK – 12 pieces of coverageUS – 25 pieces of coverageVietnam – 5 pieces of coverageGlobal – 150+pieces of coverage
$100M Entertainment Fund
Perhaps the biggest story to come out of NEARCON was the launch of NEAR's $100 million entertainment fund. It captivated the press, appearing in coverage from international news outlets such as CoinDesk, International Business Times, Journal Du Coin France, China's leading crypto title Panony , CoinPost Japan and Coin Press Korea.
And rightly so. By partnering with Caerus for this new $100 VC Fund and Lab, NEAR will help push new Web3 innovation in culture, media, and entertainment. This fund now places NEAR at the forefront of changing how creative projects are financed, produced, and distributed, as well as how it's consumed, owned, and monetized. 
11 Visionary 'Women of Web3 Changemakers'
Another big campaign launched at NEARCON—the Women of Web3 Changemakers. A partnership with Forkast News, thisinitiative celebrated 11 exceptional women shaping the future of Web3. 
The campaign attracted a great deal of interest from a global audience, with mentions in CoinDesk, Fintech Finance, and Yahoo Finance.  
NEAR Digital Collective (NDC) and Phase 1 Sharding announcements
NEAR Co-founder Illia Polosukhin gave an exclusive interview with CoinDesk about the NEAR Digital Collective (NDC). This interview was syndicated in various media outlets across Africa, Brazil, and China.  
CoinDesk also covered NEAR's Phase 1 Sharding news, which made significant waves in the developer community as well as international headlines. Meanwhile, Pagoda announced their Pagoda Console—a 'one stop' tool shop that gives devs all the kit they need to build Web3 apps. 
NEAR hubs launch in India and Vietnam
NEARCON also witnessed the launch of two major regional hubs—Vietnam and India.  NEAR Foundation worked closely with the Vietnamese press to amplify the story locally, and with great success. Vietnam's major tech titles covered the announcement, including Zing news.
NEAR Foundation replicated this approach with India's media outlets, garnering coverage in major titles such as YourStory, the local equivalent of TechCrunch. Interviews were also secured with Reuters, Bloomberg and Times of India. 
Other stories from the NEAR ecosystem
NEAR Foundation pushed out announcements on Tether (USDT) going live on NEAR, Sender Wallet's $3.5 million funding round, and Few and Far's ambition to grow the NEAR NFT ecosystem. There were also announcements for NEAR's partnership with Fireblocks, which will bring innovative crypto technologies to new global institutional investors, and SWEAT Economy's tokenomics. 
As with many of the other stories and announcements from NEARCON, these stories had mass global appeal. Coverage could be found in The Block, Cointelegraph,  Forbes India, and  CryptoTVPlus Africa.
The sheer amount of positive press comes at a critical time for NEAR. The entire ecosystem and the wider Web3 world are building through a crypto winter but also battling other macroeconomic forces, post-Covid trauma, and climate change. It's a time for resilience and creativity in how the NEAR and Web3 communities rethink and refashion the internet, and more importantly, the world. 
NEARCON demonstrated to the people across the globe that the protocol, ecosystem, and community will not be deterred. Builders and investors are still flocking to NEAR to build the next generation of decentralized apps. 
This is what creating without limits looks like. And it's just the beginning!
The post NEAR After NEARCON In Numbers appeared first on NEAR Protocol.
Test-Driven Design for NEAR Smart Contracts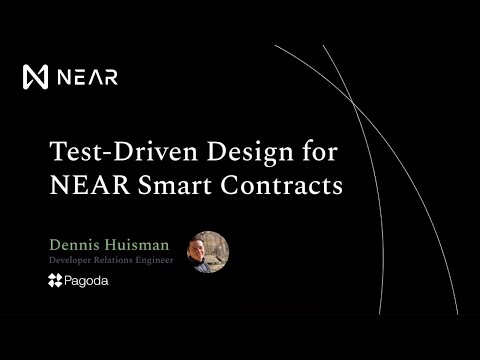 NEAR and Circle Announce USDC Support for Multi-Chain Ecosystem 
Big news coming out of the Converge22 conference in San Francisco this week. Circle Internet Financial, a global digital fintech firm and the issuer of USD Coin (USDC), announced a partnership with NEAR that will make USDC widely available on the NEAR ecosystem by the end of 2022. 
Having USDC on NEAR is definitely a reason to celebrate. Circle will also make USDC available on other platforms to support a multi-chain ecosystem. USDC expected to go live on NEAR in early 2023. 
Powering NEAR developers 
Bringing USDC to NEAR will help empower developers to integrate stablecoin payments flows into their Javascript and  Rust-based decentralized applications. This will unlock a new wave of accessibility for Web2 builders moving into Web3. It will also serve a vital role in NEAR's mission of Web mass adoption, while helping developers build without limits.
"The multi-chain expansion increases USDC's native availability from eight ecosystems to thirteen, and enables blockchain developers building on USDC and their users to experience greater liquidity and interoperability within the crypto economy," said Joao Reginatto, VP of Product at Circle. "Extending multi-chain support for USDC opens the door for institutions, exchanges, developers and more to build their innovations and have easier access to a trusted and stable asset." 
Bringing USDC to NEAR is a big win for developers, who will now be able to integrate stablecoin payment flows into Javascript or Rust-based dApps. This will help usher in a new wave of accessibility for Web 2 builders making the shift to Web3.
What to know about stablecoins
A stablecoin is simply a cryptocurrency that is "pegged" to a more traditional currency like USD or EURO. Through various treasury and/or collateral models, they are designed to keep a 1:1 value, or parity, with their pegged counterparts. Stablecoins can also be pegged to credit and/or debt or have no collateral at all, as seen in algorithmic stablecoins. 
Their presence in the Web3 ecosystem brings a sense of familiarity for natives and newcomers alike. A stablecoin is also a sort of on-ramp to understanding token economics—the gas that powers Web3 and beyond. 
While designed to reduce cryptocurrency volatility, stablecoins present their own set of risks. When centralized, stablecoins can be victims of hacks, theft, or even over-printing which can lead to hyperinflation. If an algorithmic stablecoin experiences algorithmic failure, as happened with Terra and its sister currency, Luna, the stablecoin can fail. If a stablecoin is fractionally reserved instead of fully backed, there can be a bank run that triggers a dramatic stablecoin price drop. 
Visit ref.finance for more information including the risks associated with  investments.
The post NEAR and Circle Announce USDC Support for Multi-Chain Ecosystem  appeared first on NEAR Protocol.