CGTN: China, Vietnam chart course for bilateral ties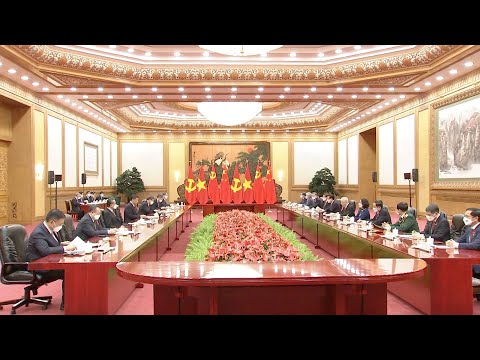 BEIJING, Nov. 1, 2022 /CNW/ — China has welcomed the first foreign leader to visit the country since the conclusion of the 20th National Congress of the Communist Party of China (CPC) — General Secretary of the Communist Party of Vietnam (CPV) Central Committee Nguyen Phu Trong.
At the invitation of Xi Jinping, general secretary of the CPC Central Committee and Chinese president, Trong is on an official visit to China which began on October 30.
During their talks on Monday, the two leaders vowed to make joint efforts in promoting the China–Vietnam comprehensive strategic cooperative partnership in the new era to a new level.
A visit showing solid friendship
Noting that Trong is the first foreign leader he has met since the 20th CPC National Congress and this is Trong's first trip abroad since the 13th National Congress of the CPV, Xi said that it fully shows the great importance the two sides attach to developing relations between the two countries and the two parties.
Xi also presented the Friendship Medal of the People's Republic of China (PRC) to Trong, saying that the medal represents the profound friendship of "comrades plus brothers" between China and Vietnam.
The award is presented to those who support the country's modernization, promote exchanges between China and the world and safeguard world peace.
Trong said that he has fulfilled his promise to Xi that he would visit China for his first international visit following his re-election as General Secretary of the CPV in January 2021.
Five years ago in November, Xi chose Vietnam as his first overseas destination after the 19th CPC National Congress.
The Vietnam News Agency said that Trong's trip is a reciprocal visit, which aims to "affirm Vietnam's consistent policy of attaching importance to relations with China as a top priority."
A visit charting the course for bilateral relations
The two leaders agreed to continuously advance socialist modernization, align development strategies, and promote cooperation in various areas, such as medical and health care, green development, digital economy and climate change.
For the cause of socialism and China–Vietnam relations, adhering to the correct political direction is paramount, Xi said.
Highlighting the two sides should consolidate the socialist economic foundation, he said China is ready to synergize its development strategies with Vietnam.
China regards the Association of Southeast Asian Nations (ASEAN) as a priority in its neighborhood diplomacy and a key region in high-quality Belt and Road cooperation, and attaches importance to Vietnam's role in the ASEAN, Xi said.
Trong said that Vietnam is willing to further synergize the "Two Corridors and One Economic Circle" and the Belt and Road Initiative (BRI).
Despite impacts of the COVID-19 pandemic and geopolitical upheavals in the world, Vietnam is China's largest trading partner in the ASEAN and the sixth largest in the world, with bilateral trade exceeding $230 billion in 2021.
In July, China and Vietnam agreed to further strengthen the docking of development strategies and speed up cooperation under the BRI and the "Two Corridors and One Economic Circle" plan.
The "Two Corridors and One Economic Circle" plan is an initiative to boost regional economic cooperation between China and Vietnam. It involves several areas in southern and southwestern China and northern Vietnam.
During their talks, Trong also stressed that his country firmly adheres to one-China policy, firmly opposes any form of separatist activities seeking "Taiwan independence," and will not develop any official relations with Taiwan.
Vietnam does not allow any country to establish a military base on its territory, does not join any military alliance, does not use force against any country, and does not unite with one country against another, he said.
Following the talks, the two leaders witnessed the signing of cooperation documents on political parties, economy and trade, environmental protection, culture and tourism, justice, customs and local affairs.
https://news.cgtn.com/news/2022-10-31/Xi-holds-talks-with-Vietnam-s-communist-party-chief-in-Beijing-1eAbvfKZw0E/index.html
View original content to download multimedia:https://www.prnewswire.com/news-releases/cgtn-china-vietnam-chart-course-for-bilateral-ties-301664207.html
SOURCE CGTN
Electrifying Journey: The Beloved Electric VW Bus Cruises Historic Route 66 from Chicago to Santa Monica

Join Jack Smith on his most recent electric adventure as he follows historic Route 66 across the United States and has a firsthand experience of what it is like to cross-country travel in a vintage converted electric Volkswagen bus.
CHICAGO, Sept. 30, 2023 /PRNewswire-PRWeb/ — EV West is thrilled to announce a groundbreaking journey that combines the classic charm of historic Route 66 with cutting-edge electric vehicle technology. A fully converted to electric VW Bus is set to embark on a historic cross-country adventure, tracing the iconic Route 66 from Chicago, Illinois, to Santa Monica, California.
"I'm a little bit nervous about spending three weeks on the road in a vintage electric bus, but that's what makes it an adventure."
The vehicle will be piloted on its cross country trip by Jack Smith who has previously crossed the US both driving an EV and skateboarding.. "After my skateboard trips and then the trip last year, I got to thinking, what route could I do next that I haven't done and Route 66 is it!" Jack will be accompanied by his wife Cathy. "We have this list of things we want to do and driving Route 66 seemed to be something that fit. We're also both going to be 66 this year, so this is the perfect time to take on this adventure." It being her first time on a trip like this one Cathy added that she is a little hesitant. "I'm a little bit nervous about spending three weeks on the road in a vintage electric bus, but that's what makes it an adventure."
This voyage marks a significant milestone in the evolution of electric vehicles, showcasing the range, reliability, and eco-friendliness. "It's funny" says Jack, "On the last trip we kept hearing, there's no way you can do this, you know there's not enough charging stations!" When asked about the trip as a whole Cathy said, "It's not something that many people would do, or I would be doing, if I wasn't married to Jack." To which Jack replied "if you have something you want to do don't wait do it!"
The EV West microbus, now known as OG.Buzz, is powered by a NetGain Hyper9 electric drive system that is popular with many electric vehicle conversion enthusiasts. We spoke with Hunter Hamstra from NetGain Motors. "This bus went from California to New York back from New York to California last summer. It's pretty amazing that Jack is doing it again this year, with the same motor, same inverter, same battery pack… just some new body work and a fresh paint job." Hunter continued, "It's really impressive that he's able to make that trip not just once across the country or twice back across the country but now for a third time with the very same components in this whole 1963 electric vehicle."
To prepare for the journey, EV West has partnered with Buswerx in San Luis Obispo to bring the VW microbus into top operational shape, and gave the microbus a new 'vintage' paint job that will help the OG.Buzz stand out on the cross country trip. We talked to Jason Nadal, the owner of Buswerx about working on the OG.Buzz microbus. "I love the way it drives!" said Jason, " The performance exceeded my expectations. People tell you what it's going to feel like but you really don't experience it until you are behind that big steering wheel and it's a split window…. Then knowing what it normally feels like compared with the OG.Buzz bus… It's like okay this is where I need to be!"
"One thing about that bus being around the shop," continued Jason,"It was bringing so much attention, people were coming to kind of get weekly updates of what's going on. You know, what are the changes here and there…. A couple of these people even want to get electric conversions in!"
The journey promises to capture the imagination of travel enthusiasts, electric vehicle advocates, and road trip aficionados alike.
Key Details:
Departure Date: October 10, 2023Starting Point: Chicago, IllinoisEnding Point: Santa Monica, CaliforniaDistance: Over 2,400 milesDuration: Approximately two weeksNumber of stopovers: 20Gas Used: None
The Journey:
The Electric VW Bus will take on Route 66, known as the "Main Street of America." This historic highway winds through picturesque landscapes, small towns, and iconic landmarks, making it the ideal backdrop for showcasing the capabilities of electric mobility.
The journey will be documented through daily updates, live streams, and engaging social media content, allowing people across the country to follow along as the Electric VW Bus conquers this legendary route.
Join the Journey:
Follow the Electric VW Bus on its epic adventure from Chicago to Santa Monica! Stay updated with live coverage and exclusive content on EV West's social media channels and website.
For media inquiries, please contact:
Press Contact: Drew Coalson | Media Manager | drew@evwest.com | 888-591-5830
About EV West:
EV West is a company specializing in electric vehicle (EV) conversions and components. EV West is known for converting classic cars into electric vehicles, providing EV conversion kits, and offering components for electric drivetrains. They contribute to the growing trend of electrifying traditional automobiles, promoting sustainability in the automotive industry. For the latest developments, please check their official website or recent news sources.
About NetGain Motors:
NetGain Motors, Inc. is the exclusive worldwide distributor of HyPer™, WarP™, ImPulse™, and TransWarP™ electric motors for use in electric vehicles and electric vehicle conversions. NetGain was founded in 1998 by a diverse group of professionals who formed the company's roots in electric drag racing. NetGain has since partnered with hundreds of EV Conversion shops and OEM's to expand the electrification market.
About Buswerx:
Buswerx is a small family operated business specializing in restorations and resto-mods of vintage Volkswagens. Buswerx began as a hobby in 1996 in Bakersfield California and was started by car builder Stan Stewart, his daughter Kimberly Stewart (Nadal) and local car customizer Chad Johnston. The name and logo has changed slightly since it was created in the early 90's by Johnston. Since then Buswerx moved to the Central Coast in California where it has been restoring vintage Volkswagens. Although Buswerx began soley customizing pre 67 VW buses it has taken on the customizations of Karmann Ghias, Beetles, and Type 3's. Some of Buswerx's cooperating partners include EMPI, Wolfsburg West, Aikewld, Type E Motorsports, Old Speed and Wolfgang International. Restoration and Customization of VW's is Buswerx's passion and works with its customers to create their visions into reality.
Note to Editors:
High-resolution images, and additional information about the Electric VW Bus and the Route 66 journey are available at the following media link and additional are available assets upon request.
Media Link: https://www.evwest.com/pr/route66/
View original content to download multimedia:https://www.prweb.com/releases/electrifying-journey-the-beloved-electric-vw-bus-cruises-historic-route-66-from-chicago-to-santa-monica-301942642.html
SOURCE EV West
Edelweiss Coffee in Iron Mountain, Michigan Celebrates 19 Years of Growth with Support from Crimson Cup Coffee & Tea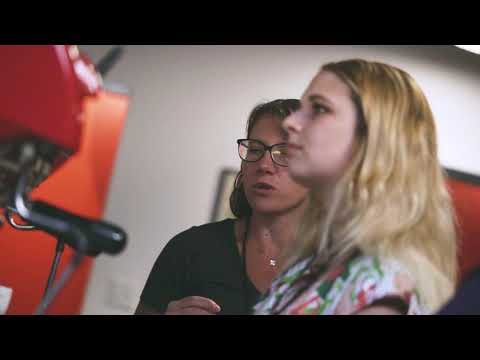 Edelweiss Coffee, an independent coffee shop in Iron Mountain, Michigan, is celebrating 19 years of continuous growth. Owners Jenni and Tom Wender attribute part of their success to support from Crimson Cup Coffee & Tea, an award-winning coffee roaster and coffee business consultant.
COLUMBUS, Ohio, Sept. 30, 2023 /PRNewswire-PRWeb/ — Coffee entrepreneurs Jenni and Tom Wender are celebrating 19 years of success as owners of Edelweiss Coffee in Iron Mountain, Michigan. This independent coffee shop is renowned for its distinct drive-thru-only setup and coffee that always satisfies.
"I would absolutely refer Crimson Cup to anyone opening a coffee shop. The product and training have met or exceeded any expectations I ever had. The support was unexpected and has been extremely helpful to me over the past 19 years. " –
Jenni Wender
, Eidelweiss Coffee,
Iron Mountain, Michigan
"We focus on providing the highest quality products at competitive prices," said Tom Wender. "We're the place where quality meets quick service."
Jenni Wender said the couple has built their success on doing things the right way for the right reasons. "It's a blend of exceptional customer service and serving a top-notch drink. Our customers may pop by for just a moment, but in that time, we strive to give them the best. We're always bustling, always caffeinated, always ready!"
The Wenders opened Edelweiss Coffee at 201 Ridge View in Iron Mountain in August 2004. They attribute the shop's continuing success to its unique operation and support from Crimson Cup Coffee & Tea, an award-winning coffee roaster and coffee business consultant.
"We are thrilled to celebrate Edelweiss Coffee's 19th anniversary and the incredible journey they have had," said Crimson Cup Founder & President Greg Ubert. "It has been an honor to support Jenni, Tom, and their team every step of the way. We are committed to empowering independent coffee shops and sharing our passion for exceptional coffee."
Ubert set up the company's 7 Steps to Success program to teach entrepreneurs with little or no coffee experience how to open a coffee shop.
Based on his book, 7 Steps to Success: A Commonsense Guide to Succeed in Specialty Coffee, the program has helped over 300 entrepreneurs in 30 states start and run independent coffee shops serving their local communities. Many Crimson Cup customers like the Wenders have been thriving for 5, 10, 15 or even 20 years after opening.
7 Steps coffee shop startup consultants assist entrepreneurs in everything from writing a coffee shop business plan to training employees and marketing to attract new customers.
"I would absolutely refer Crimson Cup to anyone opening a coffee shop," Jenni said. "The product and training have met or exceeded any expectations I ever had."
"The support was unexpected and has been extremely helpful to me over the past 19 years. Whether I need help with equipment or how to prepare a beverage, Crimson Cup has already done it and can help me."
"The coffee is the best," she added. "Customers tell us all the time, ours is the best coffee they've had, and significantly better than chain store coffee! If they are visitors, they make sure they get our coffee when they're in town. College students can't wait to get back to Edelweiss. And our regular customers are the most loyal of all."
Tom said he counts on Crimson Cup to provide products that will make the best coffee drinks around at a reasonable cost. "They've made a lot of changes during the last 19 years, but I just stick with their recommendations, and I have never been disappointed," he said.
Thinking about opening your own coffee shop? Tom offered this advice:
"Make the coffee shop your full-time job. Believe in yourself and your business plan."
"Especially in your first year, consistency is king. Put personal flair on the back burner and prioritize a standard approach to preparing drinks. It ensures every cup is as memorable as the last. Imagine running your coffee shop like a franchise – everything is done a certain way every single time!"
Jenni said she thought the independence of being her own boss would be the best part of owning a coffee shop. "But it really has been getting to know so many customers."
The Wenders invite everyone in Dickinson County and the Michigan Upper Peninsula to pick up an exceptional latte, mocha or other beverage at Edelweiss Coffee. The shop at 201 Ridge View in Iron Mountain is open 7 days a week. To learn more, visit the shop's website.
About Crimson Cup Coffee & Tea
Founded in 1991, Crimson Cup is at the forefront of the coffee industry. Its attentive roasting, startup support and global partnerships are consciously designed for the greater good of communities worldwide. Among other significant recognitions, the company has earned 2023 Double Gold awards at the Aurora International Taste Challenge, 2020 and 2017 Good Food Awards, the 2019 Golden Bean Champion for Small Franchise/Chain Roaster and Roast magazine's 2016 Macro Roaster of the Year.
Crimson Cup travels the world searching for the perfect cup – driven by meaningful relationships, honesty and a shared vision for the future. Its Friend2Farmer initiatives foster respect and decency through mutually beneficial collaboration across local and global communities.
Through its 7 Steps to Success coffee shop startup program, the company teaches entrepreneurs to run independent coffee houses in their local communities. By developing a coffee shop business plan, entrepreneurs gain insight into coffee shop startup costs.
Crimson Cup coffee is available through over 300 independent coffee houses, grocers, colleges and universities, restaurants and food service operations across more than 30 states, Guam and Bangladesh. The company also owns five Crimson Cup Coffee Houses and the CRIMSON café and retail store in Easton Town Center. To learn more, visit crimsoncup.com.
Media Contact
Cheryl Claypoole, Crimson Cup Coffee & Tea, 614-361-5023, cheryl@claypoolecc.com, https://www.crimsoncup.com
View original content to download multimedia:https://www.prweb.com/releases/edelweiss-coffee-in-iron-mountain-michigan-celebrates-19-years-of-growth-with-support-from-crimson-cup-coffee–tea-301943537.html
SOURCE Crimson Cup Coffee & Tea
Cox Enterprises returns as VIP Sponsor for the Women In Technology's 2023 Women of the Year in S.T.E.A.M Awards Gala
Women in Technology (WIT) today announced the VIP Sponsor for its Women of the Year Awards Gala to be held on Friday, October 13th at Mercedes-Benz Stadium.
ATLANTA, Sept. 29, 2023 /PRNewswire-PRWeb/ — With more than 350,000 people within the Women in Technology (WIT) community, WIT is the largest non-profit organization committed to empowering and educating women and girls about opportunities in science, technology, engineering, arts, and math (S.T.E.A.M) in Georgia. The WIT Awards Gala celebrates female visionaries of S.T.E.A.M, groundbreakers in business and remarkable leaders who make a difference in their workplace and community.
"The work of Women In Technology aligns perfectly with Cox's goal to empower 34 million people to live more prosperous lives by 2034, and we're thrilled to celebrate these visionary women and girls as they continue to make a profound impact on our communities."
Maury Wolfe
, Cox Enterprises
This is Cox Enterprises' fifth year as the VIP Sponsor of the Women of the Year Awards.
"Cox is proud to join in this celebration of current and future leaders in STEAM," said Maury Wolfe, Vice President of Corporate Responsibility and Social impact at Cox Enterprises. "The work of Women In Technology aligns perfectly with Cox's goal to empower 34 million people to live more prosperous lives by 2034, and we're thrilled to celebrate these visionary women and girls as they continue to make a profound impact on our communities."
In speaking about Cox Enterprises dedication to WIT, Penny Collins, WIT President and CEO said, "Our partnership with Cox Enterprises is impactful. They are a company focused on being an employer of choice for women which speaks straight to our values. We are grateful to have this organization as a major sponsor once more," said Penny Collins, WIT President and CEO.
Women in Technology's (WIT) 24th Annual Women of the Year Awards will be held on October 13th at the Mercedes-Benz Stadium in Atlanta, Georgia with more than 1,000 technologists in attendance.
The Women of the Year Awards in S.T.E.A.M Gala gathers top Georgia companies at the forefront of Science, Technology, Engineering, Arts, and Mathematics (S.T.E.A.M) industries to recognize and announce the Women of the Year – women who demonstrate leadership and vision in business and who make a difference in our community. Additionally, we celebrate a special high school girl as the Girl of The Year, a WIT College Club with our Campus Club of the Year Award, and a single mother with our Single Mother of The Year Award.
The WIT Awards Gala will start with a VIP Reception from 5:00pm – 7:00pm and program from 7:45 – 9:00pm where all winners of each category will be announced.
Interested in becoming a sponsor of the WIT Awards Gala? Sponsorship opportunities are available for purchase online, visit: bit.ly/WITAwardsSponsor
Available sponsorship opportunities include:
Table Sponsor: $5,000 and more!
*Only a few exclusive sponsorship opportunities remain!
Individual and VIP Tickets to attend the event are available for purchase onsite.
For questions about sponsorship, contact Kyle Ross at kross@mywit.org or by phone at 470-222-8413. More information can be found at: https://mywit.org/events/women-in-technology-awards/
About Cox Enterprises
Cox Enterprises is dedicated to building a better future through our leading communications, automotive and media companies. Our major operating subsidiaries include Cox Communications and Cox Automotive, and we are strategically investing in new industries and emerging technologies, with sizeable interests in clean technology and health care. Headquartered in‥Atlanta, Georgia, Cox is a global company with‥$20 billion‥in annual revenues and brands that include Autotrader,‥Kelley Blue Book‥and Cox Homelife. Founded in 1898 by‥Ohio‥Governor‥James M. Cox, the company is a family-owned business committed to its people, communities and planet. To learn more about Cox, visit coxenterprises.com.
About Women In Technology (WIT)
Women In Technology (WIT) empowers girls and women to excel in Science, Technology, Engineering, The Arts, and Math (STEAM) from the classroom to the boardroom. We do this by providing female students in middle school, high school, and college with education, exposure and experience. By sharing the stories of successful professionals across the STEAM fields, we encourage all generations of girls and women to write their future. Today, WIT has over 20,000 members in Georgia, 48,000 members worldwide and our team of more than 250 volunteers deliver professional development and networking opportunities to each of our professionals and programs at no charge to more than 4,000 students. WIT is a 501(c)(3) non-profit organization, and we are committed to making Georgia the state with the highest percentage of women in the STEAM workforce by partnering with our community to provide opportunities that champion women throughout their education and career.
Media Contact
Paula Bolton, Women In Technology, 7703774539, pbolton@mywit.org, mywit.org
View original content to download multimedia:https://www.prweb.com/releases/cox-enterprises-returns-as-vip-sponsor-for-the-women-in-technologys-2023-women-of-the-year-in-steam-awards-gala-301942598.html
SOURCE Women In Technology