Peloton Unveils Holiday 2022 Creative Campaign Highlighting How Motivation Transcends Beyond the Workout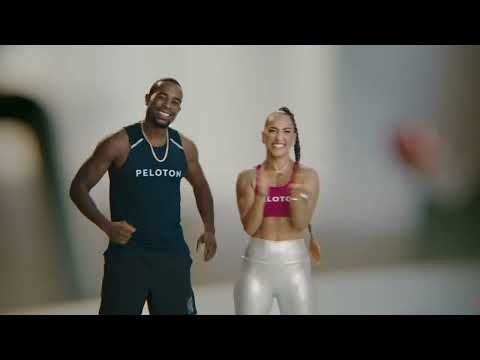 NEW YORK, Nov. 7, 2022 /PRNewswire/ — Today, Peloton launched its 2022 holiday campaign entitled, "The Peloton Effect." Produced in partnership with Mother LA, the campaign showcases how the motivation provided by Peloton's world-class content and Instructors stay with you long after the workout is over – motivation that keeps you moving forward in life, towards your goals, even through the busyness of the holiday season.
Experience the full interactive Multichannel News Release here: https://www.multivu.com/players/English/9105951-the-peloton-effect-holiday-2022-creative-campaign/
The hero TV ad shows a mother and father in the middle of their workouts on the Peloton Bike+ and Tread. Suddenly, they are reminded that they have family coming over for a holiday dinner and need to shift gears to prepare for their guests. In the throes of completing their holiday to-do lists, the couple is able to draw inspiration from their earlier classes with Peloton Instructors Robin Arzón and Alex Toussaint – calling upon mantras that struck a chord with each of them – as they race against the clock to prepare for their family gathering. With the help and motivation of Arzón and Toussaint, the couple powers through their tasks and are ready to enjoy their holiday.
"We wanted to capture the unique effect that our Instructors' words have on our Members, both in and out of the class experience," said Peloton's SVP of Global Creative Bryant Brennan. "We know our Instructors' words inspire and motivate, as we've heard countless stories of how Members apply what they hear in class to their everyday lives – it's one of the things that makes the connection between Instructor and Member so special. Our 2022 holiday campaign brings to life how the kind of motivation you find at Peloton is there for you, wherever and whenever you need it."
The hero :30 spot featuring Arzón and Toussaint will air in the US and Canada across various channels including television, digital and social. A localized :30 spot featuring Peloton Instructors Hannah Frankson and Jon Hosking will air in the UK and Australia.
Simon Bruyn, Executive Creative Director at Mother LA, summarizes the inspiration behind this year's holiday campaign stating, "Peloton has a very special connection with its Members. They don't just work out with Peloton, they find motivation with Peloton. In this work we wanted to show how the motivation you find with Peloton can help you get through one of the busiest, most stressful times of the year."
Peloton Credits
Bryant Brennan – SVP, Global Creative
Oliver Snoddy – VP, Consumer Marketing
Sade Balogun – Director, Consumer Marketing
Jo Soulas – Creative Director
Kyra Hurwitz – Senior Manager, Consumer Marketing
Agency Credits
Mother LA
Press Contact
About Peloton
Peloton (NASDAQ: PTON) is the leading connected fitness platform with a loyal community of nearly 7 million Members worldwide. A category innovator at the nexus of fitness, technology, and media, Peloton's first-of-its-kind subscription platform seamlessly combines innovative hardware, distinctive software, and exclusive content. Its world-renowned instructors, coach and motivate Members to be the best version of themselves anytime, anywhere. Founded in 2012 and headquartered in New York City, Peloton continues to scale across the US, UK, Canada, Germany, and Australia. For more information, visit www.onepeloton.com.
View original content:https://www.prnewswire.com/news-releases/peloton-unveils-holiday-2022-creative-campaign-highlighting-how-motivation-transcends-beyond-the-workout-301670221.html
SOURCE Peloton Interactive
Fair Worlds Launches SPACE-TIME ADVENTURE TOURS Immersive AR Experience in Seattle

Mobile app promises a real world adventure through the Seattle Center with a unique blend of history, comedy & AR.
SEATTLE, June 8, 2023 /PRNewswire-PRWeb/ — Fair Worlds announces the launch of SPACE-TIME ADVENTURE TOURS, a new type of immersive narrative experience for fans of travel, history and augmented reality.
Available now on the Apple App Store, the free, AR-enabled app guides players on immersive tours through the past, present, and future of famous locations. Each tour will include a curated mix of archival content alongside an interactive story and time-bending AR gameplay.
The first release features a flagship tour through the present day Seattle Center in Seattle, Washington, with a spotlight on the 1962 Century 21 Expo––the first "Space Age" World's Fair. This thirty minute experience transports locals and tourists alike on a trip through the thrilling sights and sounds of mid-century Seattle. The tour takes a sharp turn, however, after a pair of desperate physicists who are running out of time (literally) enlist the player's help.
Once a player arrives at the start of the tour, located at the Seattle Center Monorail Station, their mobile device transforms into an official SPACE-TIME ADVENTURE TOURS "Walkie-Talkie Time Machine™." This Space Age interface uses GPS to guide players on a multi-stop tour showcasing the main attractions located at the Seattle Center…with only a few additional and unexpected stops along the way.
Additional tours and location-based features are planned for future releases.
"We're proud to bring immersive, location-based AR experiences to the Seattle Center with Space-Time Adventure Tours," says Erik Horn, Co-Founder & CCO of Fair Worlds, "and we're looking forward to publishing more immersive narratives in other historical locations soon."
AR gameplay and other features are powered by Niantic Lightship (Pokémon Go) which enable the localization and rendering of virtual objects with believable depth and occlusion.
"Fair Worlds is taking an innovative approach to spatial content development and publishing," says Joe Gabriel, Developer Relations Lead at Niantic, "and Space-Time Adventure Tours brings creative and compelling storytelling using the Niantic Lightship platform. Fair Worlds is an exciting developer to watch."
Key art was created by Seattle-based design shop INVISIBLE CREATURE. In-game characters were designed by visual artist Matte Stephens.
DOWNLOAD THE APP https://apps.apple.com/us/app/space-time-adventure-tours/id1562426467
MORE INFORMATION http://www.spacetimeadventuretours.com
PRESS KIT http://www.spacetimeadventuretours.com/press-kit
Pull Quote
"Fair Worlds is taking an innovative approach to spatial content development and publishing," said Joe Gabriel, Developer Relations Lead at Niantic, "Fair Worlds is an exciting developer to watch."
Media Contact
Bradley Parrett, Fair Worlds, 1 (512) 200-4840, brad@fairworlds.com, http://fairworlds.com
SOURCE Fair Worlds
Astronauts launch Earth Movie Theater with special tribute to Bach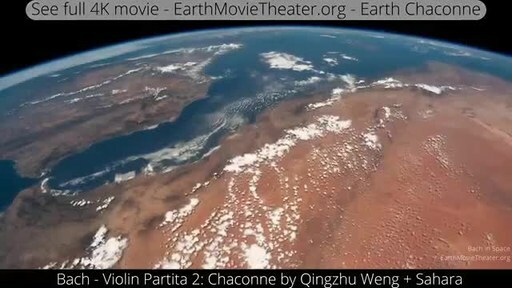 LEIPZIG, Germany, June 8, 2023 /PRNewswire/ — The Association of Space Explorers (ASE) and TERC join forces today with Bachfest to release an extraordinary Earth movie titled "Earth Chaconne."
Astronauts release stunning movie of Earth from orbit, with glorious music of Bach, on EarthMovieTheater.org
The movie is available free on EarthMovieTheater.org – the premier showcase of stunning Earth movies by astronauts, along with wonderful music by world-class musicians.  Each movie is custom-built as a work of art – Earth visuals plus music. The site is operated by ASE and TERC as a public service for education and public engagement.
"Earth Chaconne" features a glorious flight path over the Sahara, Mediterranean and Eastern Europe, as photographed from the International Space Station. The music is Bach's Violin Partita 2: Chaconne, powerfully played by Qingzhu Weng, a winner of the 2022 International Bachfest Competition.
"What a perfect match! The joyous music of Bach and glorious views of Earth from space. Both celebrate depth and beauty. Both reveal intricate harmonies. Both make our hearts soar," says Daniel Barstow, ASE Education Mission Specialist and Director of Earth Movie Theater.
Michael Maul, Bachfest Artistic Director, says "When I saw this movie, I had tears in my eyes: nature that seems like a work of art, united with music that seems completely natural – simply wonderful!" Today, Bachfest celebrates the 300th anniversary of Bach's inauguration as Thomaskantor in Leipzig.
ASE and TERC made EarthMovieTheater.org as a creative showcase for the astronaut perspective – to reach both minds and hearts.
"We will create many more movies – Earth has so much beauty, and we love to work with such talented musicians. Please visit often and enjoy" says Dan Barstow.
About ASE:
The Association of Space Explorers is the global association of over 400 flown astronauts and cosmonauts from 38 countries, promoting space science, international cooperation, education and planetary stewardship. Learn more at space-explorers.org
About TERC:
TERC is a STEM nonprofit for research and development in math and science education. Learn more at TERC.edu
About Bachfest:
The renowned annual music festival in Leipzig, German to celebrate Johann Sebastian Bach. Learn more at Bachfestleipzig.de
About Earth Movie Theater
The premier website showcasing astronaut photography of Earth plus world-class music. Learn more at EarthMovieTheater.org
View original content to download multimedia:https://www.prnewswire.com/news-releases/astronauts-launch-earth-movie-theater-with-special-tribute-to-bach-301845177.html
SOURCE Association of Space Explorers
Introducing the MUCAR CDE900 PRO:The One-Stop Solution for Comprehensive Vehicle Diagnostics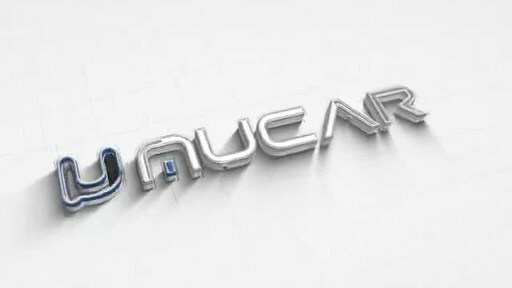 ONTARIO, Calif., June 8, 2023 /PRNewswire/ — As a car owner, there's nothing more frustrating than having the vehicle stall or break down unexpectedly. That's why having a reliable and efficient diagnostic tool is crucial for every car owner. The MUCAR CDE900 PRO is a top-of-the-line diagnostic tool that will help car owners identify and fix any issues with their car quickly and efficiently.
With a 5-inch touch screen and a 1.2m diagnostic cable, the MUCAR CDE900 PRO offers a user-friendly interface that makes car diagnostics a breeze. Powered by Android 6.0 and an MT6580 4-Core Cortex Chip, it boasts lightning-fast processing speeds and can handle even the most complex diagnostic tasks with ease.
It comes with an impressive 2+32G ROM and a 3150mAh battery, it's ability to insert a memory card no larger than 256G to expand the memory. Ensuring that you have enough storage space and power to diagnose multiple cars with ease. It also offers full OBD2 functions, including reading and clearing error codes, and a 4-in-1 data stream that covers ABS, SRS, TCM, and ECM systems (only $39.95 if needed).
One of the most significant advantages of the MUCAR CDE900 PRO is its lifetime free updates. Car owners can unlock full system diagnostics for just USD 99.95. Additionally, they can perform 28 reset functions with lifetime free updates (unlock one reset function for USD 15.95, full Rest functions unlock online payment of just USD 79.95). Also they can unlock 1 Brand Full System Diagnostics + 28 Reset Functions + ECU Coding + Active Test for 59.95USD.
The MUCAR CDE900 PRO also offers a professional diagnosis report, Bluetooth/email share printing, and support for 17 languages, including English, French, German, Italian, Spanish, Portuguese and other languages. It supports all vehicles with OBDII protocol after 1996 and the following communication protocols: ISO 14230-4 (KWP2000), ISO 15765-4 (CAN), ISO 9141-2 (iso), ISO 14229 (uds), and SAEJ 1850 (VPW&PWM).
MUCAR CDE900 PRO is a fantastic investment for car owners, mechanics, and technicians. Its comprehensive diagnostic functions, lifetime free updates, and user-friendly interface make it an indispensable tool for anyone who wants to keep their car in top shape. With its high-end features and affordable price, it's a must-have for anyone who takes their car maintenance seriously. Order it today and experience the convenience and efficiency of the MUCAR CDE900 PRO.
Video – https://mma.prnewswire.com/media/2095365/CDE900_PRO.mp4  
View original content:https://www.prnewswire.co.uk/news-releases/introducing-the-mucar-cde900-prothe-one-stop-solution-for-comprehensive-vehicle-diagnostics-301845018.html