Astronauts launch Earth Movie Theater with special tribute to Bach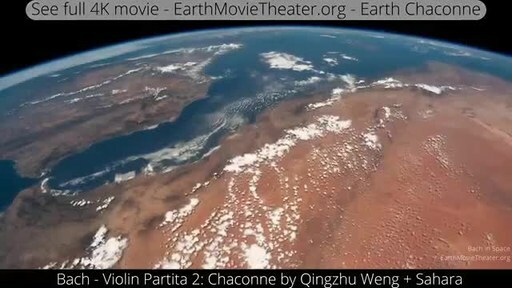 LEIPZIG, Germany, June 8, 2023 /PRNewswire/ — The Association of Space Explorers (ASE) and TERC join forces today with Bachfest to release an extraordinary Earth movie titled "Earth Chaconne."
Astronauts release stunning movie of Earth from orbit, with glorious music of Bach, on EarthMovieTheater.org
The movie is available free on EarthMovieTheater.org – the premier showcase of stunning Earth movies by astronauts, along with wonderful music by world-class musicians.  Each movie is custom-built as a work of art – Earth visuals plus music. The site is operated by ASE and TERC as a public service for education and public engagement.
"Earth Chaconne" features a glorious flight path over the Sahara, Mediterranean and Eastern Europe, as photographed from the International Space Station. The music is Bach's Violin Partita 2: Chaconne, powerfully played by Qingzhu Weng, a winner of the 2022 International Bachfest Competition.
"What a perfect match! The joyous music of Bach and glorious views of Earth from space. Both celebrate depth and beauty. Both reveal intricate harmonies. Both make our hearts soar," says Daniel Barstow, ASE Education Mission Specialist and Director of Earth Movie Theater.
Michael Maul, Bachfest Artistic Director, says "When I saw this movie, I had tears in my eyes: nature that seems like a work of art, united with music that seems completely natural – simply wonderful!" Today, Bachfest celebrates the 300th anniversary of Bach's inauguration as Thomaskantor in Leipzig.
ASE and TERC made EarthMovieTheater.org as a creative showcase for the astronaut perspective – to reach both minds and hearts.
"We will create many more movies – Earth has so much beauty, and we love to work with such talented musicians. Please visit often and enjoy" says Dan Barstow.
About ASE:
The Association of Space Explorers is the global association of over 400 flown astronauts and cosmonauts from 38 countries, promoting space science, international cooperation, education and planetary stewardship. Learn more at space-explorers.org
About TERC:
TERC is a STEM nonprofit for research and development in math and science education. Learn more at TERC.edu
About Bachfest:
The renowned annual music festival in Leipzig, German to celebrate Johann Sebastian Bach. Learn more at Bachfestleipzig.de
About Earth Movie Theater
The premier website showcasing astronaut photography of Earth plus world-class music. Learn more at EarthMovieTheater.org
View original content to download multimedia:https://www.prnewswire.com/news-releases/astronauts-launch-earth-movie-theater-with-special-tribute-to-bach-301845177.html
SOURCE Association of Space Explorers
Xinhua Silk Road: China's shipping industry achieves new progress in international cooperation

BEIJING, Sept. 26, 2023 /PRNewswire/ — China has beefed up efforts to deepen its international cooperation in the shipping industry and made new achievements. 
Major achievements related to open cooperation in the shipping industry, including the release of the Shanghai port-Los Angeles port green shipping corridor implementation plan outline and the launch of the international container transport service platform, were announced during the 2023 North Bund Forum on international shipping and aviation, which kicked off on Friday in Shanghai.
At the forum, Shanghai port together with ports of Hamburg, Dunkirk and Singapore jointly announced that they will further deepen their friendly relations in the future.
This year marks the 50th anniversary of the restoration of China's IMO membership, said Kitack Lim, secretary-general of the International Maritime Organization (IMO), adding that as a member of the IMO, China has made outstanding contributions and played a key role in international maritime rules and global maritime governance.
It is learned that Shanghai secured its third position in the international shipping center ranking in the 2023 Xinhua-Baltic International Shipping Center Development Index Report.
The index report, which was released at the forum, showed that a new pattern of the global shipping industry has been formed, with Singapore, London, and Shanghai leading the way.
Original link: https://en.imsilkroad.com/p/336246.html
View original content to download multimedia:https://www.prnewswire.com/news-releases/xinhua-silk-road-chinas-shipping-industry-achieves-new-progress-in-international-cooperation-301939662.html
SOURCE Xinhua Silk Road
Noodle.ai Announces Patent-Pending Technology for Generative Supply Chain Planning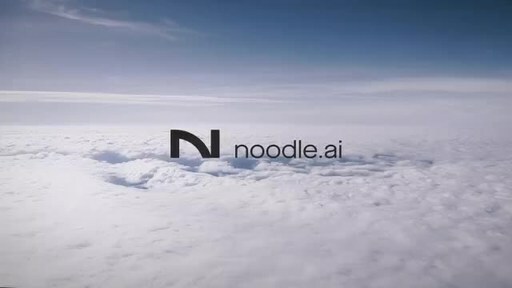 SAN FRANCISCO, Sept. 26, 2023 /PRNewswire/ — Last week, Noodle.ai, the leader in Supply Chain A.I., had its patent application filed for the core GPP technology underlying its new Generative Supply Chain Planning. The technology, which is probabilistic in nature, has the ability to drive dramatic increases in supply chain profitability and dramatic decreases in supply chain waste.
Noodle.ai had its patent application filed for their GPP technology underlying its new Generative Supply Chain Planning.
"We are convinced the GPP technology will mark a key milestone in the transition to a future of Generative Planning." said Stephen Pratt, Founder & CEO of Noodle.ai. "This is a once in a generation breakthrough to make material improvements in global supply chain efficiency and waste reduction."
Why is Generative Planning Revolutionary? 
Traditional planning solutions have struggled to keep pace with the complexities and uncertainties of modern global supply chains. The existing deterministic approaches usually lead to sub-optimal, and often infeasible, plans. These plans are created by decades old stagnating technologies which create an imbalance between supply and demand, lower profits, and huge amounts of waste because remedial actions are often required to satisfy demand.
"This technology further grows our competitive advantage over other supply chain alternatives," said Mahriah Alf, Noodle.ai Chief Product Officer. "Generative Planning builds on the Probabilistic System of Intelligence currently driving our products and is a quantum leap forward."
Noodle.ai Generative Planning optimizes entire supply chains simultaneously through Large Graph Models (LGM) that continually learn and improve. 
Hyung-il Ahn, Noodle.ai, Chief AI Scientist, says "Noodle.ai's Generative Planning incorporates cutting-edge generative AI technologies—such as attention-based graph neural networks (GNN), offline deep reinforcement learning (Offline RL), and probabilistic policy simulations. This potent combination generates dynamic supply action plans that are both feasible and network-wide optimized and consider time-varying supply chain objectives and probabilistic factors like demand, lead time, and production variabilities." 
Generative Planning Results 
Noodle.ai Generative Planning has shown extraordinary promise when tested using historical data from a North America-based consumer goods company with a complex supply chain network. Generative Planning simultaneously increased revenue and decreased costs by reducing out of stocks and lost sales by 75% and reducing excess stock by 20% with a corresponding inventory holding cost impact. 
A Generative AI Solution that adapts to your ever-changing Business Objectives 
Generative Planning can adapt to different corporate objectives, whether they are maximizing profits, service levels, minimizing risk, cost containment, or other metrics. By employing generative policy models trained on real-world network transition data, Generative Planning performs probabilistic simulations to create optimal supply plans that are tailoring to your corporate objectives and resilient to the uncertainties of today's global supply chains. 
Availability
Generative Planning data science and data flow development are complete, and the broader application is being productized to ensure it meets Noodle.ai high standards of availability, security, scalability, and ease of use. Noodle.ai Generative Planning will be available to initial customers in Q1 of 2024 with an initial focus on demand and finished-goods distribution.
About Noodle.ai 
Noodle.ai is currently a probabilistic system of intelligence that supercharges your current planning and transaction systems with the power of probabilities. Unlike traditional systems that rely on fixed rules and simplified assumptions, Noodle.ai uses cutting-edge AI/ML technology to conquer variability and improve your decision-making process. With risk-adjusted recommendations and automated workflows, you'll achieve unprecedented productivity, service levels, and cost savings in your supply chain.
With the productization of this patent-pending technology Noodle.ai will become a Generative System of Planning that allows customers to reduce the cost and improve the quality of their supply chain planning by replacing outdated systems.
View original content to download multimedia:https://www.prnewswire.com/news-releases/noodleai-announces-patent-pending-technology-for-generative-supply-chain-planning-301939588.html
SOURCE Noodle.ai
Tech and Personal Finance Sustainability Innovators Announce Partnership and Co-Branded Experience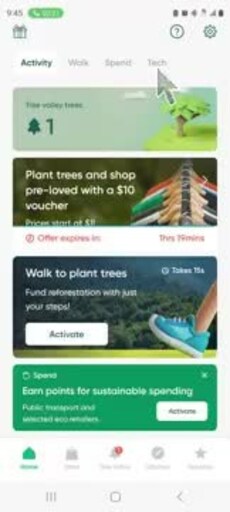 St. Louis-based plug partners with Treecard to create sustainability-driven shopping experience for consumers, exclusively benefitting global reforestation efforts
ST. LOUIS, Sept. 26, 2023 /PRNewswire/ — plug, a leading online retailer of in-demand personal tech devices, announces a partnership with Treecard, the debit card app that is reforesting the planet. Treecard will offer the plug shopping experience to its users, housing a fully integrated, Certified Pre-Owned tech shop through the Treecard app. This collaboration aims to maximize the environmental impact of both brands.
Discarded electronic products, e-waste, represents 2% of trash in landfills and equals 70% of overall toxic waste.
The partnership between these rapidly growing brands is rooted in a shared commitment to the environment and providing access to sustainable products and services. plug connects people around the world to reliable, Certified Pre-Owned devices, making it affordable and easy to make an environmentally-conscious tech purchase. Treecard helps debit card users to adopt greener habits and plants trees as they spend.
"Treecard gives a portion of our profits to Ecosia, our tree planting partner, to plant and protect trees in biodiversity hotspots where they are needed most," said James Cox, co-founder of Treecard. "As a results of our customer's efforts we expect to fund over 5,000,000 trees this year, and the addition of this all-new, integrated plug shop allows us to bring more value to customers and, ultimately, plant even more trees."
The tech shop is now accessible through the Treecard app and offers visitors full access to the plug catalog of available devices. Since 2009, plug has saved over one million devices and Treecard has helped to plant more than 180 million trees in over 32 countries. With every purchase made, this partnership is contributing exclusively to the reforestation efforts and the goal of saving more than two million devices from landfills by 2025.
"Reducing e-waste is at the heart of plug's mission," said Oday Alaytum, founder and managing partner of plug. "As technology prices rise and global e-waste volumes continue to grow, customers are looking for a way to save on today's popular technology and make environmentally-friendly purchases. Increasing our exposure to like-minded consumers through this partnership with Treecard not only broadens access to reliable and sustainable tech, but prevents more devices from reaching landfills."
Unneeded, unused, and discarded electronic products, known as e-waste, represents 2% of America's trash in landfills and equals 70% of overall toxic waste. According to the EPA, e-waste is the fastest growing municipal waste stream in America but a large number of what is labeled as "e-waste" is actually whole, discarded electronic equipment or parts that are readily marketable for reuse or can be recycled for materials recovery. The energy saved by recycling one million laptops is equivalent to the electricity used by 3,657 U.S. homes in a year.
More information on plug can be found at the company's website, www.plug.tech, or Facebook, Instagram, TikTok, X (formerly Twitter), Pinterest, or YouTube pages at @plugbettertech. Learn more about Treecard at www.treecard.org, or Facebook, X (formerly Twitter), or LinkedIn pages at @treecardapp or on Instagram at @treecard.
About plug
plug, formerly eCommsell, is a St. Louis-based consumer electronics provider and online retailer that connects people to reliable, renewed devices. The company was founded by Oday Alyatim in 2020 to make it affordable and easy for people to get the most out of their personal technology purchases and help reduce unnecessary e-waste. plug hand tests and certifies every device it sells through its rigorous 90+ point 'Certified Pre-Owned Assurance' certification process, providing a one-year performance warranty and 30-day, money-back guarantee on all devices sold. plug is 'Responsible Recycling' or 'R2' certified, and has helped, along with its sister company Comm Depot, to prevent over one million working devices from reaching landfills since 2009.
About Treecard
Treecard is an empowering green app that rewards customers by planting real trees when they adopt greener habits. From walking to shopping, Treecard's community can turn their everyday actions into trees and support other vital environmental projects. Treecard's mission is to make it easy and fun for anyone to have a positive impact on our planet, no matter where they are in their sustainability journey. Trees are planted where they are needed most and protected by vetted and responsible tree-planting organizations, shoulder-to-shoulder with local communities.
View original content to download multimedia:https://www.prnewswire.com/news-releases/tech-and-personal-finance-sustainability-innovators-announce-partnership-and-co-branded-experience-301939341.html
SOURCE plug