Pivotree and GreyOrange Announce Strategic Partnership to Transform Supply Chain Capabilities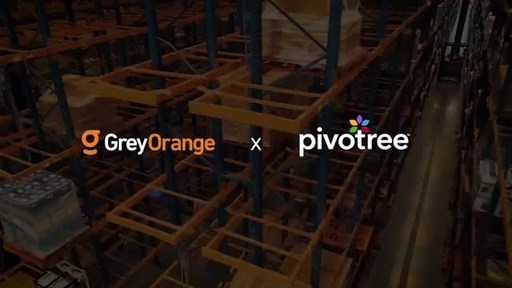 –Combining warehouse and order management solutions with AI-driven software and robotics increases performance and reduces cost–
TORONTO, Nov. 8, 2022 /CNW/ – Pivotree Inc. (TSXV: PVT), a leading provider of frictionless commerce solutions, and GreyOrange Inc., a global leader in automated robotic fulfillment and optimization software, today announced a new partnership to offer comprehensive fulfillment capabilities within warehouses and distribution centers. This joint offering from Pivotree and GreyOrange will deliver a competitive edge for customers increasing visibility, accuracy, and cost efficiency.
GreyOrange's fulfillment orchestration platform, GreyMatter™, maximizes productivity, speed, accuracy, and safety in warehouse operations by assigning work activities to diverse fleets of robots. Paired with Pivotree™ WMS, this new offering helps customers scale warehouse operations by reducing costs and improving order fulfillment through inventory accuracy and increased operations performance visibility.
"Partnering with innovative companies such as Pivotree is a top priority for GreyOrange as we expand our reach within fulfillment and inventory optimization," said Jason Brewer, Director of Strategic Alliances, GreyOrange. "Pivotree's use of AI in warehouse management software and integrated architecture provides confidence that this partnership will help joint customers produce high yield fulfillment and future scalability."
Pivotree™ WMS is a feature-rich platform that supports multiple brands and warehouses with complex and varied business processes on a single, shared SaaS infrastructure. GreyMatterTM is a robot agnostic fulfillment orchestration platform that utilizes real-time data and machine learning insights to orchestrate fulfillment operations for the most efficient movement of inventory in a fully integrated, end-to-end solution.
"This partnership is an example of how next-level innovation companies connect to provide the best fulfillment services using AI and robotics along with WMS and OMS offerings," said Jim Brochu, General Manager of Supply Chain, Pivotree. "We look forward to working with GreyOrange to ensure our joint customers are set up for continued growth."
Pivotree's portfolio of digital products, as well as managed and professional services helps provide B2B2C digital businesses with true end-to-end service to manage complex digital commerce platforms, along with ongoing support from strategic planning through product selection, deployment, and hosting, to data and supply chain management.
Neither TSX Venture Exchange nor its Regulation Services Provider (as that term is defined in policies of the TSX Venture Exchange) accepts responsibility for the adequacy or accuracy of this release.
About Pivotree
Pivotree, a leader in frictionless commerce, designs, builds and manages digital platforms in Commerce, Data Management, and Supply Chain for over 250 major retail and branded manufacturers globally. Pivotree's portfolio of digital solutions, managed and professional services help provide retailers with true end-to-end solutions to manage complex digital commerce platforms, along with ongoing support from strategic planning through platform selection, deployment, and hosting, to data and supply chain management. Headquartered in Toronto, Canada with offices and customers in the Americas, EMEA, and APAC, Pivotree is widely recognized as a high-growth company and industry leader. For more information, visit www.pivotree.com.
About GreyOrange
Disrupting and re-defining fulfillment, GreyOrange Inc. provides a state-of-the-art hardware agnostic fulfillment orchestration platform, GreyMatter™, that responds to customer orders in real time as well as proprietary and certified third-party hardware. The company's solutions offer a competitive advantage by increasing productivity, empowering growth, and scale, mitigating labor challenges, and reducing risk and time to market while also creating better experiences for customers and employees. Founded in 2012, GreyOrange is headquartered in Atlanta, Georgia, and employs over 800 people with offices and partners across the Americas, Europe, and Asia. For more information, visit www.greyorange.com.
View original content to download multimedia:https://www.prnewswire.com/news-releases/pivotree-and-greyorange-announce-strategic-partnership-to-transform-supply-chain-capabilities-301671493.html
SOURCE Pivotree Inc.
HashKey Group and SEBA Bank Form Strategic Partnership to Accelerate Institutional Adoption of Digital Assets in Hong Kong and Switzerland

HONG KONG, Dec. 5, 2022 /PRNewswire/ — HashKey Digital Asset Group ("HashKey" or "The Group") and SEBA Bank AG ("SEBA Bank") have today announced a new strategic partnership that will see both financial services groups leverage their digital asset service offerings as well as custody and asset management products to accelerate the institutional adoption of digital assets in Hong Kong and in Switzerland.
The strategic partnership, formalised through a Memorandum of Understanding (MOU), will see HashKey become SEBA Bank's preferred digital asset trading and market development partner in Hong Kong, while SEBA Bank will be the banking partner of choice for HashKey in Switzerland. Together, HashKey and SEBA Bank will endeavour to bring to market reliable and differentiated solutions and avenues for institutional and professional investors who are seeking to take exposure in the digital asset ecosystem. The two groups are also committed to complying with and embracing the regulatory frameworks of their respective jurisdictions with the highest standards of compliance, Know-Your-Customer and Anti-Money Laundering policies and measures.
SEBA Bank is a leading crypto bank in Switzerland having a suite of fully regulated banking and investment services including trading, structured products, bank accounts, credit, custody and staking. By partnering with HashKey, SEBA Bank will strengthen its offering to its institutional clients and partners and solidify its position as a global crypto banking leader, complementing its existing licenses and branches in Switzerland and Abu Dhabi.
HashKey Group, through its subsidiary Hash Blockchain Limited ("HBL"), was recently granted approval from the Securities and Futures Commission ("SFC") of Hong Kong to operate a virtual asset trading platform, becoming only the second company in Hong Kong licensed to provide regulated automated trading services for professional investors in respect of virtual assets. In accordance with the regulatory framework set out by the SFC, HashKey's virtual asset trading platform, named HashKey PRO, is built to ensure the highest level of client asset protection, in which client assets are segregated and held in custody by HashKey Custody Services Limited, a holder of a Trust or Company Service Provider licence in Hong Kong.
Franz Bergmueller, Group CEO of SEBA Bank, commented, "With a supportive regulatory framework, Hong Kong is a leading jurisdiction globally in the licensing provision of crypto products and services. It is important that the SEBA group becomes part of this ecosystem as a trusted, secure and transparent counterparty in this regulated crypto environment. We're proud to partner with Hashkey to establish and strengthen our presence in this critical market. As a leading provider of digital asset financial services in the Asian markets, HashKey will play an important role in expanding our presence and network in the region."
Michel Lee, Executive President at HashKey Group, said, "Since our inception, HashKey has always prioritised the importance of protecting our clients' funds and assets under a regulatory-first approach. We are excited to form this strategic partnership with SEBA Bank, a pioneer in the global digital investment market and one of the most innovative financial institutions in the world, who also shares the same ethos and core principles with us on regulatory compliance. Merging HashKey's ecosystem of digital asset services along with SEBA Bank's cutting-edge digital banking and finance infrastructure will allow us to offer to our clients the most secure and seamless gateway into the new digital economy."
Franz Bergmueller, Group CEO of SEBA Bank, and Michel Lee, Executive President at HashKey Group are available for interview.
HashKey Group Press Contacts
Trevor Cheng
Senior Marketing and Client Strategy Manager
trevor.cheng@hashkey.com 
Jason Li
Marketing and Client Strategy Manager
jason.li@hashkey.com 
SEBA Bank Press Contacts
Yves Longchamp
Managing Director, SEBA Bank AG
yves.longchamp@seba.swiss
About HashKey Group 
HashKey Group is an end-to-end digital asset financial services group in Asia. The Group provides a complete ecosystem across the entire digital asset landscape, ranging from trading, custody, venture investment, technologies to Web3 infrastructure. HashKey's senior team has decades of investment and trading experience, strong business execution and deep market insights gained from tier-one banks, regulators and FinTech ventures. By bringing together the most advanced blockchain research and development and technologies, HashKey identifies potential opportunities and delivers end-to-end solutions that operate within regulatory frameworks with the highest compliance standards. The Group has operations in Hong Kong, Singapore and Japan, and extensive partnerships with FinTech and blockchain solutions providers, academic institutions and associations.
Official website: https://www.hashkey.com
About SEBA Bank
Crypto.Banking.Simplified.
Founded in April 2018 and headquartered in Zug, SEBA Bank is a leading crypto bank in Switzerland having a suite of fully regulated banking services. In August 2019, SEBA Bank received a Swiss banking and securities dealer licence, and in September 2021 the CISA licence – the first time a reputed, regulatory authority such as FINMA has granted such licences to a financial services provider with a core capability in digital assets. In February 2022 SEBA Bank secured the Financial Services Permission from Abu Dhabi Global Market and opened an office in Abu Dhabi.
The broad, vertically integrated spectrum of services combined with the highest security standards, make SEBA Bank's value proposition unique – this is why Banque de France selected SEBA Bank to test the integration of Central Bank Digital Currency (CBDC). CVVC Global Report and CB Insights names SEBA
Bank as Top 50 Companies within the blockchain ecosystem. Aite Group awarded SEBA Bank with their 2021 Digital Wealth Management Impact Innovation Award in the category "Digital Start-up of the Year".
For more information about SEBA Bank, please visit our website.
HashKey Notes and Disclaimer
Views, information and opinions expressed in this material are those of the individuals involved and do not necessarily represent that of the HashKey Group (including any of its affiliates). While we make every effort to ensure that the information we are sharing is accurate, we welcome any comments, suggestions, or correction of errors.
This material should not be considered as an offer or solicitation to sell, buy or subscribe to any financial instruments or product, securities or any derivative instrument, or any other rights pertaining thereto. We are not acting as a financial adviser, consultant or fiduciary to you with respect to any information provided in this material. We do not express any opinion or recommendation whatsoever as to any strategies, products or any other information presented in the materials.
Any decision made by a party after accessing to this material shall be on the basis of its own research and not be influenced or based on any view expressed in this material or otherwise. This material does not address all risks. This material does not constitute investment advice or a recommendation and has been prepared without regard to individual financial circumstances, objectives or particular needs of you. You should seek their own financial, tax, legal, regulatory and other advice regarding the appropriateness or otherwise of investing in any investments and/or pursuing any investment strategies. The HashKey Group does not express any opinion as to the present or future value or price of any instruments referred to in this material.
By accessing this material, you acknowledge that the HashKey Group makes no warranty, guarantee, or representation as to the accuracy or sufficiency of the information featured in this material. The information, opinions, and recommendations presented in this material are for general information only and any reliance on the information provided in this material is done at your own risk. This material should not be considered professional advice. Moreover, the HashKey Group makes no warranty that this material, or the medium that makes it available, is free of viruses, worms, or other elements or codes that manifest contaminating or destructive properties.
By accessing this material, you acknowledge that the entire contents and design of this material, are the property of the HashKey Group, or used by the HashKey Group with permission, and are protected under applicable copyright and trademark laws. Except as otherwise provided herein, users of this material may save and use information contained in this material only for personal or other non-commercial, educational purposes. No other use, including, without limitation, reproduction, retransmission or editing, of this material may be made without the prior written permission of the HashKey Group.
Unless specifically stated otherwise, the HashKey Group does not endorse, approve, recommend, or certify any information, product, process, service, or organisation presented or mentioned in this material, and information from this material should not be referenced in any way to imply such approval or endorsement. The third party materials or content of any third party site referenced in this material do not necessarily reflect the opinions, standards or policies of the HashKey Group. The HashKey Group assumes no responsibility or liability for the accuracy or completeness of the content contained in third party materials or on third party sites referenced in this material or the compliance with applicable laws of such materials and/or links referenced herein.
The HashKey Group expressly disclaims any and all liability or responsibility for any direct, indirect, incidental, special, consequential or other damages arising out of any individual's use of, reference to, reliance on, or inability to use, this material or the information presented in this material.
SEBA Bank AG Notes and Disclaimer
This document has been prepared by SEBA Bank AG ("SEBA") in relation to its activities in Switzerland. SEBA is a Swiss bank and securities dealer with its head office and legal domicile in Switzerland. It is authorized and regulated by the Swiss Financial Market Supervisory Authority (FINMA). This document is for your information only and is not intended as an offer, or a solicitation of an offer, to buy or sell any investment or other specific product. The information contained herein does not constitute a personal recommendation or take into account particular investment objectives, investment strategies, financial situation and needs of any specific recipient. Certain products and services of SEBA are not accessible to residents and/or nationals of certain countries. Certain services and products are subject to legal restrictions and cannot be offered on an unrestricted basis and/or may not be eligible for sale to certain investors. Recipients are therefore asked to consult the sales restrictions relating to products or services in question for further information. Furthermore, recipients may consult their legal/tax advisors should they require any clarifications.
SOURCE HashKey Group
Sunbird Messaging Announces Beta App, Brings iMessage and Unified Messaging to Android Users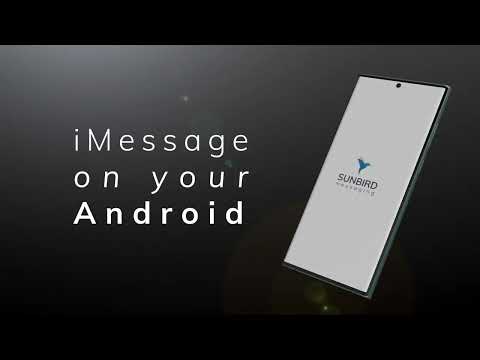 Sunbird is a new messaging app that gives Android users a fully featured iMessage and the ability to unify the world's most popular messaging apps in one app inbox.
NEW YORK, Dec. 2, 2022 /PRNewswire/ — Sunbird Messaging app has launched its closed beta community. The app is the first and only fully featured "iMessage for Android" app that only requires your Android phone. (No personal server, Apple device, or desktop software is required.)
We've solved 14 years of communications challenges associated with Android messaging…By inventing a new technology…
With Sunbird, there are no more green bubbles. Users get security (encryption), internet messaging, full-quality media, iMessage group chats, reactions/tap backs, live-typing, and read receipts, with plans to add new features regularly.
Android users can join the "early bird" list to be the first to receive an invitation to access the Sunbird beta user group. Sunbird will roll out invitations in phases to join the closed beta user group beginning in late 2022.
Sunbird offers an authentic unified messaging experience. The beta launch will include the ability to communicate securely with iMessage, SMS/MMS, WhatsApp, and Facebook Messenger—with more message app types added over the coming months.
"We've solved 14 years of communications challenges associated with Android messaging," states Danny Mizrahi, CEO, and Founder of Sunbird Messaging. "By inventing new technology that gives Android users iMessage on Android, one can enjoy the most popular functions and features uniting the top messaging apps that people use every day. One inbox for all your messages." Mizrahi adds.
The Sunbird messaging servers never store user or personal data, ensuring a safe, secure, and private messaging experience. All message types, except for traditional SMS, are end-to-end encrypted at all times. Two-factor authentication is fully supported.
Android users can join the early bird invitation list at sunbirdapp.com. The product development roadmap is also shared there, including timelines of future releases and updates to the app: Telegram, RCS, Instagram Direct Messaging, Slack, Signal, Discord, and many more.
"Another benefit to the Sunbird app is it helps to solve bullying issues that have historically come from the green and blue chat bubbles," says Mizrahi. "A January 2022 WSJ article headline included …Teens Dread the Green Text Bubble. With the Sunbird app, we want to help end this issue among teens and adults," Mizrahi adds.
About Sunbird Messaging
Founded in 2022, Sunbird Messaging is the first and only iMessage Android & web app that allows users to unify the world's most popular messaging apps into one app inbox, including iMessage, SMS/MMS, Facebook Messenger, and WhatsApp. (No desktop software/server is required, only an Android phone. ) More message app types, such as Telegram, Signal, RCS, Instagram Messenger, Slack, Line, and Discord, will be included in future updates. Sunbird Messaging servers never store user messages, ensuring safety, security, and privacy. Join the waitlist at Sunbirdapp.com. Follow @Sunbirdapp on Instagram, Twitter, YouTube, and LinkedIn, and @SunbirdMessaging on Facebook.
View original content to download multimedia:https://www.prnewswire.com/news-releases/sunbird-messaging-announces-beta-app-brings-imessage-and-unified-messaging-to-android-users-301692642.html
SOURCE Sunbird Messaging App
New Driver Training Developed at Cincinnati Children's Keeps Teens with ADHD Safer Behind the Wheel
Integrated Desktop and Simulator Training Reduced Crash Risk by 40%
CINCINNATI, Dec. 1, 2022 /PRNewswire/ — Roadways can be a dangerous place for teen drivers, even more so for those diagnosed with attention-deficit/hyperactivity disorder (ADHD). This is because those with ADHD may have difficulty sustaining visual attention to the roadway, especially when distracted.
"This training improves attention, reduces crash risk, and has the potential to save lives." —
Jeff Epstein
, PhD
Now, an ADHD driver's training program developed at Cincinnati Children's reports success at reducing the frequency of long, distracted glances away from the road that often occur among youth with ADHD. Details were published December 1, 2022, in The New England Journal of Medicine.
"This training improves teen drivers' attention to the roadway, reduces crash risk and has the potential to save lives," says the study's principal investigator Jeff Epstein, PhD, a pediatric psychologist with the Division of Behavioral Medicine & Clinical Psychology at Cincinnati Children's.
Trainees Had Fewer Crashes/Near-Crashes
The study details outcomes of the FOCAL+ training program, which expands upon a desktop-based software platform called FOcused Concentration and Attention Learning (FOCAL). This study enrolled 152 teen drivers with ADHD, aged 16-19, and split them into two groups. The 76 teens assigned to FOCAL+ participated in multiple training sessions that involved wearing special eye-tracking monitors that detect "long" glances (2 seconds or more) away from the roadway during simulated driving.
When long glances away from the road occurred while drivers were performing secondary tasks in the simulator (i.e., searching for a visual symbol on the driving console), an alarm sounded. The 76 teen drivers assigned to the control group learned about driver safety and then, like the FOCAL+ drivers, participated in multiple training sessions while wearing an eye tracker which required them to perform the same secondary task as the FOCAL+ group. However, control drivers did not get alerts when they glanced away from the road for too long.
One month after training, teens in the control group had 28.05 long glances during driving simulation per drive compared to just 16.52 long glances for the FOCAL+ group—a 41% difference. Six months later, both groups slightly improved at avoiding long glances, but those who received the FOCAL+ training maintained a 42% edge. The study also reports that non-trained drivers were more variable than trained ones in their lane position–a driving indicator related to crash risk.
To measure the impact of the training on real-world driving, drivers in both groups had an eye-tracking camera attached to the windshield in their vehicles for a year. Teens who received FOCAL+ training had fewer long-glances and crashes and near crashes than the control group. In fact, there were 40% fewer crashes and near crashes among the FOCAL+ trained group (3.4%) than the control group (5.6%). None of the crashes involved fatalities.
These findings suggest teens with ADHD were able to generalize trained skills to real-life settings, Epstein says. 
Next Steps
As a result of the success of the study, Cincinnati Children's is now offering this training to teens with ADHD. The five-session program will cost $250. Those interested in participating can call 513-636-8107 or visit the website to see if they or their teen qualify.
"Our ultimate goal is to make this training available to all teen drivers with ADHD," said Epstein. "The hope is to reduce teen driving injuries and fatalities and to provide parents with added comfort about their teen driver's safety."
Epstein notes that the sample of drivers in this study was limited to one geographic region and results may not be the same for drivers in other regions. But the results justify pursuing the programs further. The team plans to apply for grants to further investigate program efficacy. 
The program founders also are studying ways to expand the program to other ADHD care providers, and perhaps other driving instruction providers. 
The challenges ahead include scaling up the program and finding supporting sponsors. 
Video, sound and photos are available at link below. Please courtesy Cincinnati Children's Hospital
https://spaces.hightail.com/space/EWZGcXantm
View original content to download multimedia:https://www.prnewswire.com/news-releases/new-driver-training-developed-at-cincinnati-childrens-keeps-teens-with-adhd-safer-behind-the-wheel-301691856.html
SOURCE Cincinnati Children's Hospital Medical Center