Orlando Unveils 23 New Experiences to See in 2023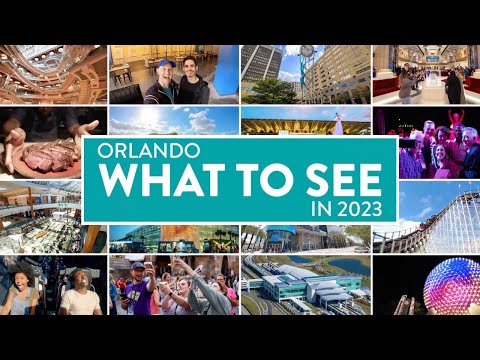 ORLANDO, Fla., Jan. 9, 2023 /PRNewswire/ — Orlando, the most visited destination in the U.S. and Theme Park Capital of the World, kicks off 2023 with a wide a range of all-new experiences for visitors to enjoy.
Experience the interactive Multimedia News Release here: https://www.multivu.com/players/English/9123451-visit-orlando-23-new-experiences-in-2023/
"Orlando is an ever-growing destination offering incredible new experiences, unique places to stay and diverse dining for travelers," said Casandra Matej, president and CEO of Visit Orlando. "With major new attractions opening at our theme parks, several brand-new hotels ranging from luxury to budget, and increased accessibility for travelers to arrive in Orlando, 2023 is the perfect time to visit our unbelievably real destination." 
Continuous updates on what's new in Orlando can be found at VisitOrlando.com, the official visitor information source for the destination.
ATTRACTIONS 
Walt Disney World Resort 
Based on the Disney sci-fi film TRON: Legacy, TRON Lightcycle / Run will open at Magic Kingdom Park in spring and take guests across a world without horizons in a high-stakes race in their very own Lightcycle.
Magic Kingdom Park's updated nighttime spectacular will feature the return "Happily Ever After."
Journey of Water, inspired by Moana, opening late 2023 within World Nature at EPCOT, allows guests to explore and engage with water as it travels from the skies to the oceans and back again. 
Universal Orlando Resort 
Universal's Great Movie Escape at Universal CityWalk is an escape room experience inspired by Universal Pictures and Amblin Entertainment's blockbuster films Jurassic World and Back to the Future.
Opening this summer inside a new Minion land at Universal Studios Florida, Illumination's Villain-Con Minion Blast will be a game-based adventure where guests encounter immersive environments, nefarious villains and mischievous Minions from Illumination's blockbuster films. 
SeaWorld Orlando Parks & Entertainment 
Debuting spring at SeaWorld Orlando, Pipeline: The Surf Coaster will be the world's first "Surf Coaster" offering immersive design elements, including a dynamic surfing launch and "wave jumping" motions.
LEGOLAND Florida Resort 
LEGOLAND Florida's family-friendly treasure hunt adventure – Pirate River Quest – will take guests through the uncharted waters of the legendary Cypress Gardens to discover the secrets protecting its canals starting early 2023.
HOTELS & RESORTS 
Conrad Orlando will debut with 433 rooms, 40,000 square feet of indoor meeting space, a tranquil spa, numerous dining options and signature rooftop experience this fall. The hotel will be the first phase of Evermore Orlando Resort, a massive 10,000-bedroom resort complex.
Drury Plaza Hotel Orlando — Disney Springs® Area, the newest official Walt Disney Partner Hotel, will be completed in the spring with 604 guestrooms, resort-style pool, splash pad, extensive marketplace and dining, complimentary hot breakfast and evening snacks, shuttle service to all four Walt Disney World® Resort theme parks and more.
Opening in winter and located in the International Drive Resort area, Cambria Hotel Orlando Universal Blvd is a 118-room property offering amenities including rooftop pool and lounge, state-of-the-art fitness center, the sophisticated Veer Kitchen & Bar restaurant and more.
Opening this fall, Aloft Lake Nona will be a six-story, 205-room music-themed property featuring a 10,000 square-foot conference center and full-service restaurant. 
JW Marriott Orlando, Grande Lakes completed several multimillion-dollar renovations with new amenities and offerings, including an expansive waterpark, refreshed rooms/suites, inspired executive family suites, and redesigned lobby lounge. 
Visitors staying at Grand Bohemian Hotel Orlando will experience new additions – like the upscale Altira Rooftop Pool Lounge – and reimagined guest rooms and spaces like the property's signature restaurant, The Boheme, and the Bösendorfer Lounge.
Award-winning boutique hotel The Alfond Inn at Rollins will complete renovations of 112 existing rooms/suites and add 71 luxury guestrooms and suites, meeting space and lobby café this summer. A new spa will feature seven treatment rooms and fitness area.
DINING & NIGHTLIFE 
The Cake Bake Shop by Gwendolyn Rogers, an Indiana-based table service restaurant and bakery, will open a new location at Disney's BoardWalk in Walt Disney World Resort in 2023, offering savory and sweet options and afternoon tea service in a whimsical atmosphere. 
Brew Theory Marketplace, an all-new food hall coming to Apopka summer, will feature a full liquor bar, Brew Theory taproom, a beer garden and more. 
Opening early 2023 in the Walt Disney World Swan and Dolphin, Rosa Mexicano will feature a menu showcasing a contemporary interpretation of authentic Mexican cuisine and an extensive beverage program boasting over 100 varieties of tequila and agave-based spirits. 
Pointe Orlando has two new restaurant additions. KAVAS Tacos + Tequila, a concept by the owners of Tapa Toro and Taverna Opa, pays tribute to Mexico's rich culinary history, with fresh tableside experiences and recipes hand-crafted from the freshest ingredients. JoJo's ShakeBAR, offers a modern diner experience featuring incredibly Instagram-worthy desserts, milkshakes and smashburgers. 
Dizzy Donuts, from Pizza Bruno's Bruno Zacchini, is slated to open by early 2023 in College Park serving hot, made-to-order donuts tossed in different toppings, as well as prepared donuts dressed in more elaborate flavors. 
ARTS & CULTURE 
Orlando Fringe will open "Fringe ArtSpace," a year-round performing arts venue this January in downtown Orlando. The 9,100 square foot space will include two performing theater spaces offering a mix of performances and pop-up events. 
Dr. Phillips Center for the Performing Arts will open Judson's this fall, a dynamic music room offering intimate cabaret-style seating for live performances. Judson's joins Steinmetz Hall, Walt Disney Theater and Alexis & Jim Pugh Theater as the fourth performance space in the $613 million, 9-acre venue. 
TRANSPORTATION 
Brightline Orlando Station, located at Orlando International Airport's Terminal C, will connect domestic and international visitors traveling between Orlando and Miami with stops in Fort Lauderdale and West Palm Beach. Riders will enjoy touchless ticketing, premium in-station lounges, complimentary WiFi, and bars and restaurants at every Brightline station. 
About Visit Orlando
Visit Orlando is The Official Tourism Association® for Orlando, the most visited destination in the United States, Theme Park Capital of the World® and No. 1 meeting destination in the country. A not-for-profit trade association that brands, markets and sells the Orlando destination globally, we represent more than 1,200 member companies comprising every segment of Central Florida's tourism community.
Visit Orlando connects consumers and business groups with all facets of Orlando's travel community, whether for a vacation or meeting. Home to seven of the world's top theme parks — as well as refreshing water parks, activities to connect with nature, vibrant neighborhoods, a dynamic dining scene with Michelin recognized restaurants, and a robust calendar of entertainment and sports events — Orlando is a diverse, welcoming and inclusive community for all travelers. Find more information at VisitOrlando.com or OrlandoMeeting.com. 
View original content:https://www.prnewswire.com/news-releases/orlando-unveils-23-new-experiences-to-see-in-2023-301716836.html
SOURCE Visit Orlando
AgentSync Appoints Guidewire CEO Mike Rosenbaum to Board of Directors

DENVER, Jan. 12, 2023 /PRNewswire/ — AgentSync, the company that's powering growth and operational efficiency for insurance carriers, agencies and MGAs with world-class producer management and compliance solutions, today announced the appointment of Guidewire Chief Executive Officer Mike Rosenbaum to its Board of Directors. Rosenbaum's leadership and in-depth corporate experience in insurance and technology will help AgentSync on its mission to revolutionize and modernize insurance compliance.
I look forward to leveraging my capabilities and network in insurance and SaaS to continue driving momentum at AgentSync
"We welcome Mike's skill set as both an insurance and SaaS leader," said Niji Sabharwal, Chief Executive Officer of AgentSync. "His experience running the largest insurance core system business on the planet, combined with his 14 years leading product teams at Salesforce, make him a one-of-a-kind fit to help direct the company through this next stage of growth."
Rosenbaum has been Chief Executive Officer of Guidewire since 2019, where he oversees the company's position as a top software provider to the global Property and Casualty insurance industry. He also ensures the success of the Guidewire customer community, and directs the advancement of its cloud offerings. Rosenbaum spent 14 years at Salesforce and most recently served as Executive Vice President, with responsibility for customer success and product development.
"AgentSync is a company with a bright future, and I am thrilled to be able to play a role in its success and growth going forward," said Rosenbaum. "The company's insurance compliance and producer management solutions unlock significant value for carriers, agencies and MGAs, and I look forward to leveraging my capabilities and network in insurance and SaaS to continue driving momentum for the organization," he said.
About AgentSync
AgentSync builds modern insurance infrastructure that connects carriers, agencies, MGAs, and producers. The company's solutions create onboarding, licensing, and appointing processes insurers and producers love while ensuring growth and compliance never compete. Founded in 2018 by Niranjan "Niji" Sabharwal and Jenn Knight, and headquartered in Denver, Colo., AgentSync has been recognized as one of Denver's Best Places to Work, as a Forbes Magazine Cloud 100 Rising Star, and an Insurtech Insights Future 50 winner.
View original content to download multimedia:https://www.prnewswire.com/news-releases/agentsync-appoints-guidewire-ceo-mike-rosenbaum-to-board-of-directors-301720518.html
SOURCE AgentSync
Snow Joe® Breaks The Ice For Winter 2023 With Its Innovative Impact-Reducing Steel Ice Chopper
High-quality steel craftsmanship and spring-loaded, shock-absorbing design make for the most efficient ice chopper to date
HOBOKEN, N.J., Jan. 12, 2023 /PRNewswire/ — Snow Joe, America's #1 brand of snow throwers, debuts its latest ice-breaking innovation: the 7-inch Spring-Loaded Impact-Reducing Steel Ice Chopper with Shock-Absorbing Handle. Engineered to alleviate the painstaking task of chopping hard-packed ice, the Snow Joe Ice Chopper features a unique spring-loaded, durable poly handle with a reinforced, D-ring grip to absorb the shock from ice chopping and reduce the strain on both your wrists and shoulders. Its durable, 7-inch carbon steel chopper blade and heavy-duty, 39.7-inch steel shaft offer control and precision to swiftly scrape, slice, dice and break through layers of tough ice and hard-packed snow on driveways, decks, steps, sidewalks, patios, and more!
"This is no ordinary ice chopper…consumers can break ice smarter, not harder, all winter long."   –
Paul Riley, Jr.
, COO
"This is no ordinary ice chopper," says Paul Riley, Jr., Chief Operating Officer at Snow Joe. "With its state-of-the-art steel construction and the significant ease of the spring-loaded, shock-absorbing handle, consumers can break ice smarter, not harder, all winter long."
Weighing only 3.2 pounds, the Snow Joe Ice Chopper is easy to maneuver and stores compactly.  Plus, it comes with a complete two-year warranty, so consumers can enjoy strain- and pain-free ice removal around their homes, yards, gardens, and garages for seasons to come.
To date, the Snow Joe Chopper has garnered over 3,700 reviews with an average rating of 4.6 out of 5 stars, earning Amazon's choice for best ice chopper!  So, when it comes to ice, don't play nice—Go With Joe® and Get Equipped® with the Snow Joe 7-inch Spring-Loaded Impact-Reducing Steel Ice Chopper with Shock-Absorbing Handle, available while supplies last at snowjoe.com and Amazon.
About Snow Joe
Snow Joe — and its complementary brands Sun Joe®, Aqua Joe®, and Auto Joe® — planted its roots in 2004 as a digitally native, direct-to-consumer company that designs, develops, and distributes high-quality, yet affordable, lawn and garden tools. It has grown to become a leader in electric and cordless snowblowers and electric pressure washers, and now offers a wide range of tools to tackle any outdoor chore, any season. For more information, visit https://snowjoe.com/ or connect on Facebook and Instagram. 
© 2023 Snow Joe, LLC. All Rights Reserved. AUTO JOE, AQUA JOE, SNOW JOE and SUN JOE are registered trademarks of Snow Joe, LLC.
View original content to download multimedia:https://www.prnewswire.com/news-releases/snow-joe-breaks-the-ice-for-winter-2023-with-its-innovative-impact-reducing-steel-ice-chopper-301720436.html
SOURCE Snow Joe LLC
CCTV+: China's top disciplinary body adopts communique to promote full, rigorous Party self-governance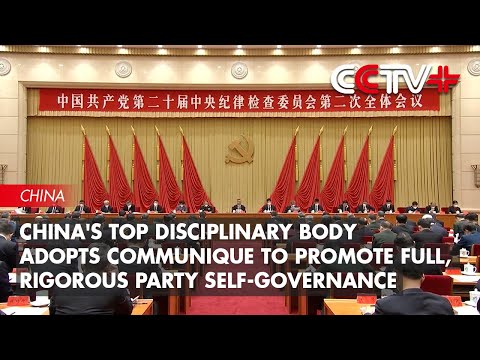 BEIJING, Jan. 11, 2023 /CNW/ — The Communist Party of China's (CPC) top disciplinary body on Tuesday pledged in a communique that studying and implementing the guiding principles of the 20th CPC National Congress will be the primary political task now and in the near future, and constantly promoting full, rigorous Party self-governance.
The communique was adopted at the second plenary session of the 20th Central Commission for Discipline Inspection (CCDI) of the CPC, which was held in Beijing from Monday to Tuesday.
Xi Jinping, general secretary of the CPC Central Committee, Chinese president and chairman of the Central Military Commission, attended the session and made an important speech.
The speech made by Xi at the session was studied, and it was agreed that it provided fundamental guidance for advancing the great new project of Party building in the new era and the disciplinary inspection and supervision work on China's new journey in the new era, according to the communique, which called on all Party members to study and implement the spirit of Xi's speech.
Discipline inspection and supervision organs must take the study and implementation of the guiding principles of the 20th CPC National Congress as a primary political task at the current stage and in the years to come, and turn effective implementation of the guiding principles into a strong driving force to promote high-quality development of the disciplinary inspection and supervision work on the new journey of the new era.
An eight-point requirement was put forward by the session:
To focus on implementation of the strategic decisions of the 20th CPC National Congress to intensify political oversight;To promote improvement of the systems and regulations for the Party's self-reform;To ensure that political inspections serve as a powerful tool;To implement the central Party leadership's eight-point decision on improving conduct with perseverance, tackle pointless formalities, bureaucratism, hedonism, and extravagance;To make all-around efforts to tighten Party discipline;To win the tough and protracted battle against corruption;To advance reform of the discipline inspection and supervision system in an in-depth manner;And to develop qualified human resources capable of shouldering responsibilities in discipline inspection and supervision on the new journey in the new era.
Link: https://www.youtube.com/watch?v=qUSUK9dwD4s
View original content to download multimedia:https://www.prnewswire.com/news-releases/cctv-chinas-top-disciplinary-body-adopts-communique-to-promote-full-rigorous-party-self-governance-301719413.html
SOURCE CCTV+